77-year-old Yusuf Sankar, a popular city businessman was this morning killed after a fire of unknown origin completely swept through the family's Main Street, Georgetown business, housed next to the residence of Prime Minister Moses Nagamootoo.
The fire reportedly started at about 5:45h in a section of the building that once housed the Risan Photo Studio. It is believed that the elderly man was trapped in his bedroom after the fire started. His charred remains were removed from among the debris a few hours later by fire officials.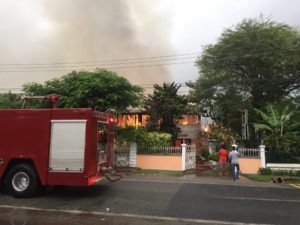 An investigation has been launched.
More details will follow in the September 19, 2017 edition of the Guyana Times.