… woman loses eyesight, critical
A 27-year-old biker from Buxton, East Coast Demerara (ECD), died on the spot after he collided with a car just after 23:00h on Sunday on the Better Hope Public Road, ECD. The passenger of the car he crashed into, lost her eyesight and is said to be in a critical condition at the Georgetown Public Hospital (GPHC).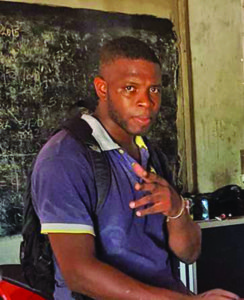 Cleon Perreira of Lot 119 Middle Walk, Buxton, lost his life when he collided with motor vehicle PMM 9206, driven by a 19-year-old Montrose, ECD resident.
Investigations revealed that the car was proceeding West along the southern carriageway of the Better Hope Public Road, when it suddenly turned North into the path of motorcycle CG 1872 that was proceeding in the opposite direction. The driver of car is in Police custody assisting with investigations while his passenger, 52-year-old Seelochanie Dhanraj remains in a critical condition in the Intensive Care Unit of the GPHC.
The driver of the car was tested and found not to have had any alcohol on his breath.
According to Perreira's uncle, Charles Mc Garrell, the family received a call sometime around 01:00h Monday morning informing them of the accident.
"Sometime after one am this morning (Monday) someone call and said Cleon been in an accident. I then visited the Georgetown Hospital where we were called in and informed that he is dead. At that period in time, it was sketchy to know what caused the accident," he said.
"Subsequently we went to the Sparendaam Police Station where we learnt that he was proceeding home East on the Better Hope Public Road and the car he got hit was going West and it make a sudden turn North and he collided with the car and that is what caused his demise," Mc Garrell added.
The grieving man related that his nephew had earlier in the evening dropped his mother to the Cheddi Jagan International Airport and then took his bike out for a ride in the city. He further stated that he was returning home when the accident occurred.
Meanwhile, the family of the car driver told Guyana Times that they received a call sometime around 23:30h informing them of the accident. They said the driver was at the time on his way to drop food for his brother when the accident occurred.
According to eyewitnesses the sound of impact was so loud it covered the loud music played by a nearby bar.
"When we got on the scene I saw the bike stick on the car and the lady inside had her jaw shift and there was plenty blood. The man on the bike had a big gap by he neck and them take a long time to get the bike from the car," the bar owner related.
Police investigations are ongoing.