BCB/Ramnaresh Sarwan Under-17 cricket…
With the closure of school, exciting cricket continues. The 30th tournament in Berbice bowled off when Mount Sinai and Tucber Park clashed.
Opting to bat first in hot conditions, Tucber Park Cricket Club scored a decent total – 273 all out in 49.4 overs.
Guyana Under-15 opening wicketkeeper-batsman Tomani Caesar stroked a breath-taking 83. His Guyana Under-15 Captain, Zeynul Ramsammy stroked his way to an attractive 43 as he showcased mature batting at a tender age.
Batting in the middle order, Ramsammy was rock solid and build a solid partnership with the attacking Caesar. After the National Under-15 duo were dismissed for good knocks, Ravishkar Sobahi scored 21, while right-hander Justin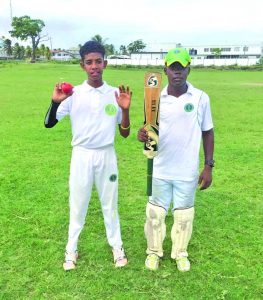 Meghu hit 25. Kevin Kisten scored a quick-fire 18, to polish off a brilliant Tucber Park batting performance.
In reply, Mount Sinai looked out of sorts, and were bundled out for 43 in 16.4 overs. Berbice Under-17 off-spinner Abdul Ramsammy, the brother of Zeynul, spun webs around the Mount Sinai batsmen. Abdul had dream figures of 5-6 and was supported by Nicquan Samuels, who took 2-11. C Arokium and K Kristen took one wicket each in a dominant bowling performance.
In the other matches, Achievers defeated D'Edward, Port Mourant defeated Albion A, Rose Hall Town A defeated Albion B at Hampshire, Edinburgh defeated Kendall Union at Kendall Union, and Blairmont A defeated Blairmont B at D'Edward.
The highlights of the first round were a sensational 243 by Blairmont's Farook Subhan and 111 not out by Jai Tika of Rose Hall Town Bakewell. The Berbice Cricket Board (BCB) will select a squad of 26 and the players will gain selection for Berbice Under-17 trials early in 2019.