President Dr Irfaan Ali on Friday met with executive members of the Inter-Religious Organisation (IRO) of Guyana at State House, where he urged them to play their part in calling out persons who spread hate, especially on social media.
Present at the meeting were representatives from the various religious bodies that form the IRO.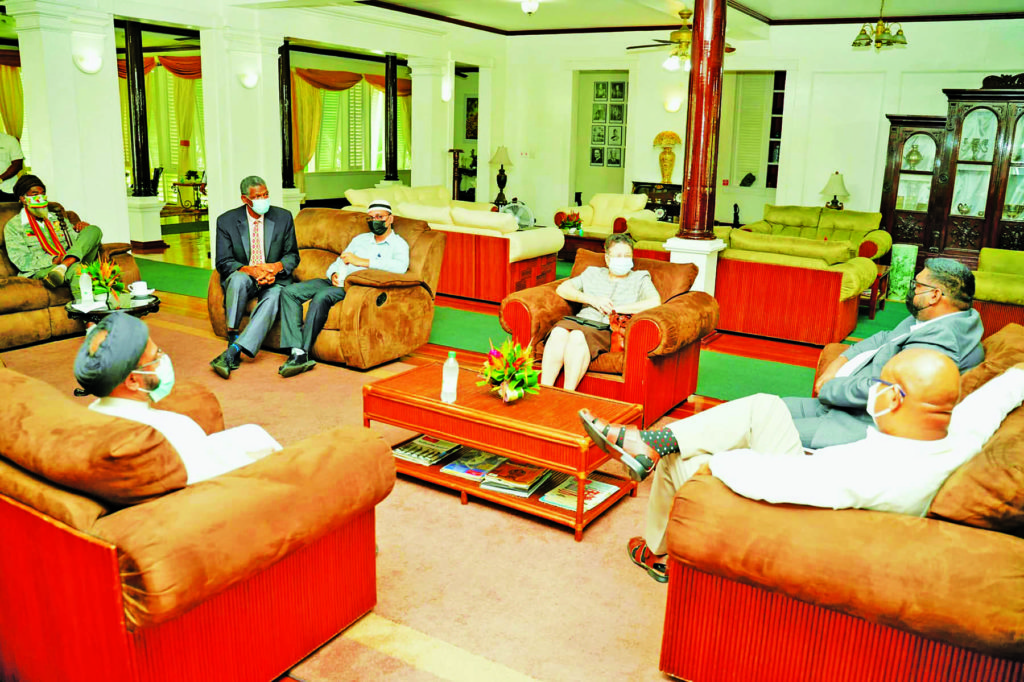 During the meeting, President Ali applauded the group for their work in society. He recognised that they have an important role to play in promoting peace and unity in Guyana.
To this end, the Head of State urged the various religious leaders to call out persons who promote hate, particularly on social media.
According to Ali, religious leaders and organisations have to be a part of the solution in healing the country.
Also present at Friday's meeting were Vice President Dr Bharrat Jagdeo and Minister of Public Works, Bishop Juan Edghill.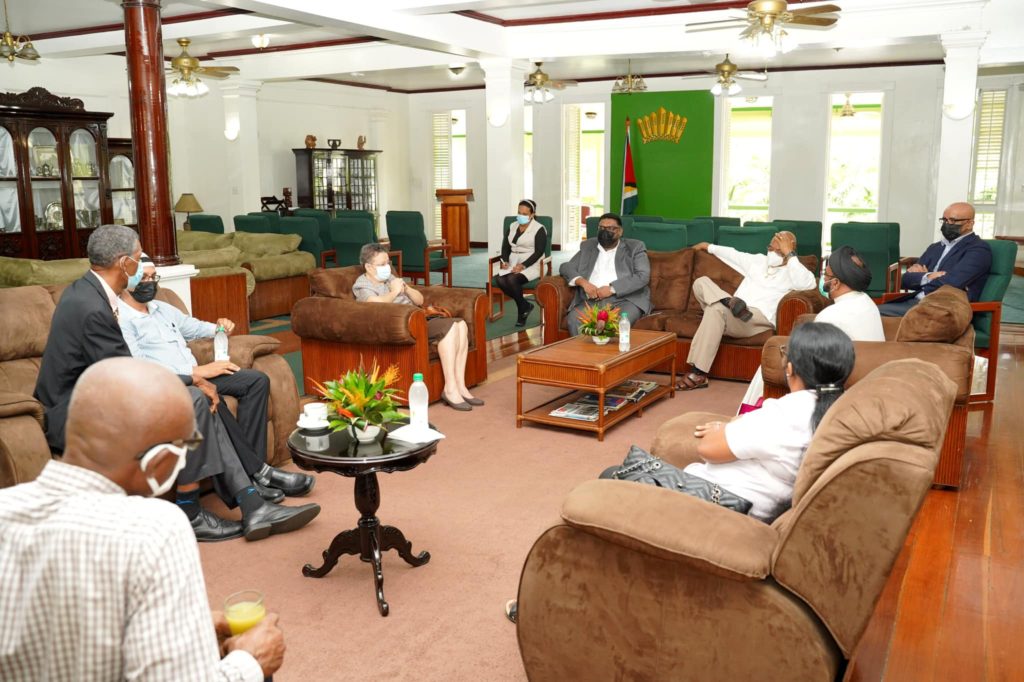 Secretary of the IRO, Jennifer Dewar subsequently told Guyana Times that they had a fruitful meeting, noting that they were able to raise some of the challenges of the organisation with the country's leader.
Dewar noted that the IRO had reached out and sought an audience with the President as the organisation observes World Interfaith Harmony Week, which is held in the first week of February.
"The President was open and he felt that as an Inter-Religious Organisation, we had a role specifically to play with regards to the morality – in terms of virtues etc – of the country generally. We also talked about working on maybe a curriculum for moral education, and also an interfaith television channel," Dewar related.
She explained that the organisation had set up a Board and already secured funding for a television vision station to broadcast religious content. However, they have had challenges with this project beginning as it relates to finding the land to build the station on.
Dewar revealed that President Ali has assigned Governance Minister Gail Teixeira and Minister Edghill to work along with the IRO to resolve their challenges in bringing this initiative to fruition.
"So, the Government wants to engage a broad cross-section of the religious community to be more on board with both his vision of the role we need to play and the vision of the IRO," Dewar stated.
President Ali's charge to the religious bodies comes while the country is still recovering from last year's contentious and prolonged General and Regional Elections during which divisiveness had raised its ugly head.
In fact, the IRO back in July 2020, during the midst of the political turmoil, had condemned the actions of racial segregation that were prevalent at the time and had appealed for peace, reconciliation, trust and stability within the country.
Meanwhile, since his inauguration, President Ali has been reassuring the nation that he is committed to govern all of Guyana, regardless of political affiliation or ethnic and religious background.
However, the degree of race-baiting, racial hate and hostility continues to heighten on social media platforms.
As such, the Head of State in September ordered that persons who promote racism on social media be penalised.
"I remind those persons guilty of this abuse of social media that freedom of expression guaranteed by our Constitution, as a fundamental right and freedom, does not relate nor extend to hate speeches or other expressions, in whatever form, capable of exciting hostility or ill-will against any person or class of persons. I further remind that such conduct, publications and utterances constitute grievous criminal offences under the Racial Hostilities, Cybercrime and other similar penal legislation and the State will not hesitate to resort to these provisions in our laws in appropriate circumstances," the President had noted in a statement.
Nevertheless, since then several persons have been charged by the Guyana Police Force and placed before the courts for various offences relating to their promotion of hate speeches and racism.
Only last month, four women were hauled before Chief Magistrate Ann McLennan for inciting racial tension during the March 2020 elections period.
On January 20, Tiffany Greene, Lashona Chester, Stacy Smarte, and Glynis Gibson pleaded guilty to the charge brought against them by the Ethnic Relations Commission (ERC) which stated that during the month of March 2020, on their Facebook pages, they caused racial or ethnic violence or hatred and promoted hostility or ill-will on the basis of race.
During their court appearance, the women begged for leniency, noting that they were first-time offenders. They were each fined $100,000 and given a stern warning by Chief Magistrate McLennan.
IRO was formed in 2003, after which it adopted a constitution. In 2004, the organisation was officially launched with the objective of promoting inter-religious tolerance.
Today some 40 member organisations that came out of the traditional religions of Islam, Christianity, Hinduism and the Bahá?í Faith are a part of the group. (G8)