The High Commission of Canada launched a multi-million dollar project called "Strengthening Justice for Women, Girls, and Indigenous Peoples in Guyana" in collaboration with the Justice Education Society (JES).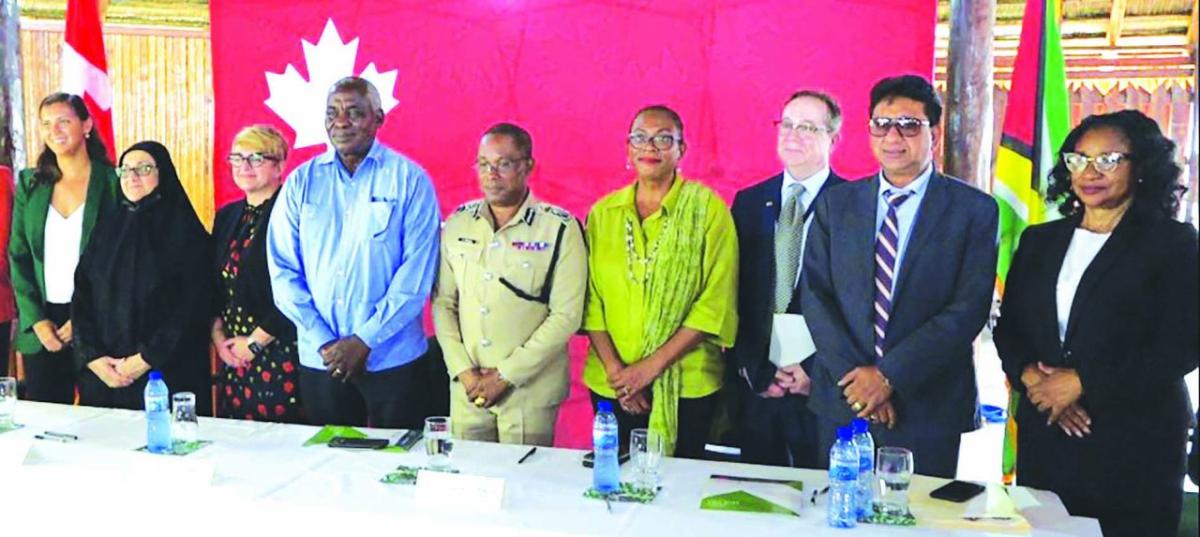 Global Affairs Canada is funding this four-year project. The direct beneficiaries will be 10,000 to 12,000 women and girls living in Indigenous communities across Guyana's hinterland.
Indirect beneficiaries are men and boys as well as a large number of Venezuelan migrants who have taken up residence in these areas. This will enable an equitable and safer society, and greater Police capacity to protect vulnerable victims.
Chief Executive Officer of JES, Sonia Poulin explained that the non-profit organisation is committed to improving citizen security and improving the local justice system. It will focus on building resources to respond to sexual and gender-based violence through training and preparing organisations to deliver gender transformative and rights-based public legal education.
"In particular, this important project will focus primarily on Region One (Barima-Waini) to support the empowering of Indigenous women and girls to funding liberal education and local solutions, while strengthening the capacity of justice actors to better respond to sexual and gender-based violence," Poulin posited.
Home Affairs Minister Robeson Benn alluded to strengthening justice for females in society, amid underlying poverty and economic issues which are even greater in remote areas.
"The underlying poverty and economic issues are there…In our partnership, I expect that the project will relate not only to the Police and the other Ministries but also to local organisations and experts."
High Commissioner Mark Berman explained that Canada considers SGBV, particularly against women and girls, as one of the most pervasive and egregious human rights violations.
"More precisely, the project that we're launching today cross-cuts three areas of critical importance to the Government of Guyana – Indigenous welfare, sexual and gender-based violence or SGBV, access to justice, particularly for the vulnerable and marginalised in society. In Canada, I'm sure you all know, is deeply committed to advancing the rights, perspective, and prosperity of Indigenous peoples."
He added, "Under this action area, our interventions seek to prevent SGBV, support survivors, and bring perpetrators to justice by working with us through a wide range of stakeholders in healthcare and justice and policing, education, social protection, and economic development, and includes developing comprehensive approaches to violence particularly domestic violence, intimate partner violence, trafficking, and exploitation, all of which typically affect women and girls."
Entities expected to benefit are the Guyana Police Force, Chamber of the Director of Public Prosecutions, the Judiciary, the National Toshaos Council, women's group, and civil society organisations. They will be able to increase their capacity to deliver the respective services for women and girls.