— Guyana, Canada share connection based on heritage, respect and appreciation of culture
The High Commission of Canada on Tuesday hosted an unveiling ceremony for the Indigenous Mural "We, the First Peoples".
This mural is a merger of two important subjects for Guyana and Canada which are Indigenous peoples and tourism.
The mural was done in the Akawaio language – which is spoken mainly in northern Guyana, and also in northern Brazil and eastern Venezuela, by about 6380 people.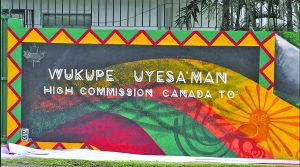 Canadian High Commissioner, His Excellency Mark Berman while making note of the similarities between the Indigenous peoples of the two countries, explained that the significance of the Akawaio language being inscribed onto the mural is in efforts to preserve the Indigenous language.
"The design is an abstract piece depicting patterns and designs from the first nations of Canada and Indigenous people of Guyana…the significance in this is rooted in global efforts to preserve Indigenous languages. Since many of them are endangered, often not taught in schools, or spoken publicly, current data indicated that at least 40 per cent of the 7000 languages used worldwide are at some level of endangerment. Ahead of the decade of Indigenous languages 2022-2032, let's make a concerted effort to support these preservation efforts," the High Commissioner stated.
Amerindian Affairs Minister Pauline Sukhai while delivering remarks explained that the two countries' connection is not just beyond borders and seas, but rather, are connected through their rich culture, identity, and ways of life.
"Guyana and Canada have continued to share strong bilateral relations that are a decade old. These relations are built on a foundation of shared principles, policies, and trade. Even deeper than these," the Minister expressed.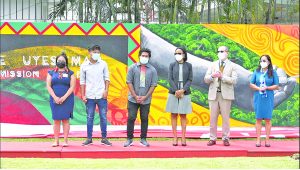 While noting that internationally, the first people have made a lasting mark on the world, the Minister also highlighted the continuous efforts that are being made in advocating the rights of Indigenous people and making sure that they are recognised.
"In Guyana, we're continuously advocating for the promotion, protection, and promulgation of the way of life, culture, and heritage of the Amerindian people. This is our constitutional right. A right that is in our supreme law in Guyana," she further emphasised.
Meanwhile, Tourism, Industry and Commerce Minister Oneidge Walrond lauded the High Commission's decision in highlighting the Indigenous contributions to Guyanese culture in support of Tourism Awareness Month.
"It builds on the many similarities of our countries, with their significant Indigenous population and aligns completely with the central place that we see in Guyana for our Indigenous peoples and communities in our tourism development strategy," Minister Walrond posited.
"Indeed, it was to demonstrate our commitment to affording such a central place to our Indigenous nations in our tourism industry that we launch tourism awareness month in the Indigenous community of St Cuthbert's Mission.
The Minister also pointed out that the majority of the Ministry's eco-tourism initiatives are being forged in partnership with Indigenous communities.
"Eco-tourism is a principal component of our tourism strategy and many of our eco-tourism initiatives are being forged in partnership with our Indigenous communities," the Minister highlighted.