The Customs Anti-Narcotics Unit (CANU) has intercepted a motor vehicle with a quantity of ganja during an operation conducted at Dochfour Village, near the Hope Canal on the East Coast of Demerara (ECD), on Sunday.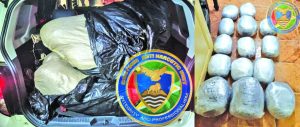 Based on information received, during that operation, as the driver brought the vehicle to a stop, he exited same and made good his escape along the mud dam.
A search of the vehicle uncovered 15 parcels of cannabis contained in two bags in the trunk. The motor vehicle and the cannabis were escorted to CANU Headquarters in Georgetown, where the ganja was weighed and amounted to 33.4 kilograms, which has a street value of $10 million.
The drug enforcement unit has meanwhile issued wanted bulletins for Akeen Daniels, called 'Chicken', and Shawn Sears, called 'Shawn Storm,' respectively of Lots 489 and 416 Trafalgar Village, West Coast Berbice, in relation to this interception.
Guyana Times has only recently reported that the Customs Anti-Narcotics Unit (CANU) had seized a whopping 2238 kilograms of cannabis for the period January 1 to this present day. This showed a 475 per cent increase in seizures when compared to the same period in 2021, when 471 kilograms of cannabis were seized.
In addition, 11 kilograms of cocaine were seized in 2021, but for the first half of 2022, this drug enforcement unit has intercepted 89 kilograms of same. This showed a whopping 800 per cent increase in seizures when compared to the corresponding period in 2021. With respect to ecstasy, less than half a kilogram has been intercepted. According to information received, 62 cases were made out against drug traffickers, and 22 convictions have to date been made.
64 per cent of CANU's drug interceptions were made in Region Four (Demerara-Mahaica), while 24 per cent were made in Region Six (East Berbice-Corentyne). Five per cent of the interceptions were made in Region Nine (Upper Takutu-Upper Essequibo), while the remaining seven percent were made in Regions Two (Pomeroon-Supenaam), Three (Essequibo Islands-West Demerara), and 10 (Upper Demerara-Berbice).
Seizures were made at wharves, rivers, farms, the Cheddi Jagan International Airport (CJIA), Guyana Post Office Corporation (GPOC), along roadways, and on the premises of private properties.
Further, CANU has seized 16 firearms for the year thus far. CANU Head, James Singh, during a telephone interview with Guyana Times, has praised the multi-agency approach adopted to fight drug traffickers.
"We have better coordination with the various agencies – the Guyana Police Force, the Guyana Revenue Authority, and the Guyana Defence Force – and the results have been overwhelming… We also have international co-operation in terms of sharing intelligence, training of staff, and other collaborations.
"Recently, agreements (have been) signed by Minister Benn and his counterpart in Brasilia to strengthen cooperation, and we have similar agreements with Colombia, Suriname, and other countries," Singh revealed.
In addition, several other factors have been helpful in regard to combating drug trafficking, including the establishment of a Maritime Section at CANU, joint establishment of a Container Scanning Unit, the presence of CANU personnel at key locations across the country; and, more importantly, improved relationship with the public.