As investigations into the killing of Kescia Branche continue, Acting Crime Chief Paul Williams has stated that the owner of the car that is allegedly linked to her death will be questioned by the police.
According to reports, Matthew Munroe who was reportedly in the United States has returned home. Munroe had reportedly left the country the day Branche's body was found.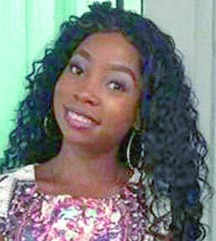 "We are pursuing all leads and evidence that we have, and also to the effect that the person for the car has returned. It is someone who will have to be interviewed, because the investigation is still open," Williams stated.
The Crime Chief has said the matter needs to be handled carefully because of the sensitive nature of the case. He also recommitted to having the matter resolved, but said it may take some time.
"I made a promise that we are going to solve that matter, and that would just be a matter of time. I am confident that it will be solved, and I'm appealing to the public (not to be) misled by the information that (they) are receiving (from) social media and some media houses," he stated.
Williams expressed unease by the countless discussions that continue to take place in the public domain. He has said that persons need to "wait for the final nail or hammer," and until someone is criminally charged and appears before the court, people should refrain from casting judgment.
He also said that persons should continue to trust in, and support, the Guyana Police Force, something he claimed that is always needed. "Don't be misled by social media, because there are more wicked people out there than supportive ones," the acting Crime Chief added.
Branche, a mother of one and a teacher at the Richard Ishmael Secondary School, was on November 5 found next to a coconut tree along Cemetery Road from Louisa Row, Georgetown, obliquely opposite the cemetery office. Two days after, she succumbed to her injuries at the Georgetown Public Hospital.
The 22-year-old woman had sustained head injuries and a broken foot. It has also been reported that relatives of the deceased woman were told by doctors that the head injuries appeared to be consistent with blows to the head. A post-mortem examination later confirmed that.
Three suspects who were being questioned regarding the death of Branche were released. The father of Branche's son was released on station bail along with the two police constables. The two policemen were placed under open arrest, and will be working out of the Tactical Services Unit (TSU).
Investigators are of the opinion that the driver may have been the last person to see the teacher alive.