Appointment of GECOM Chair
…appears wanting to repeat unilateral appointment via "nominee" ploy
Bilateral engagements are no closer to bringing caretaker President David Granger and Opposition Leader Bharrat Jagdeo together for a meeting. Instead of confirming a meeting time and date, Granger has confirmed two names for Jagdeo's consideration to include on his list of nominees for Guyana Elections Commission (GECOM) Chairman.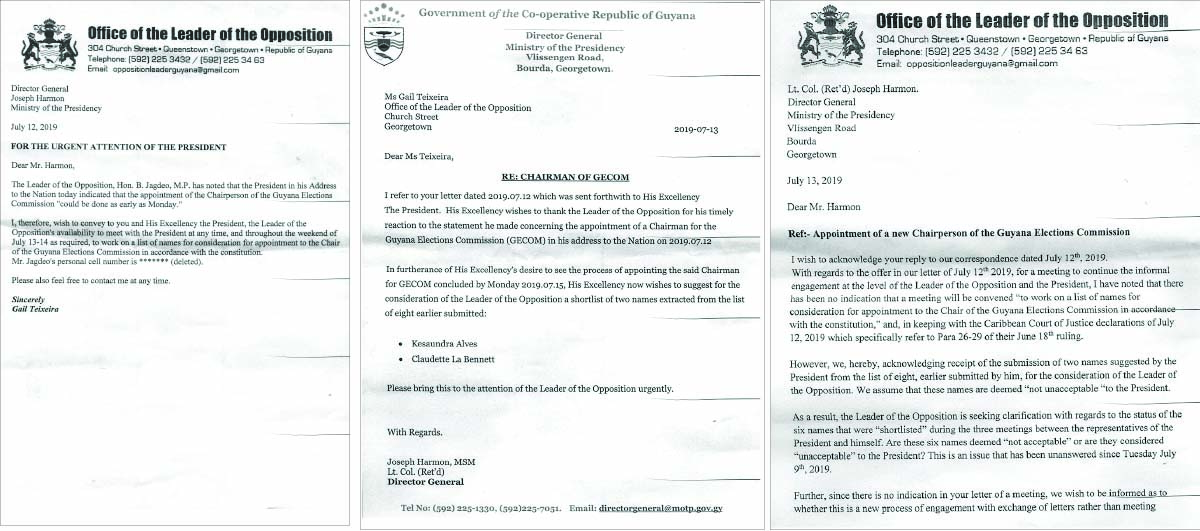 On Monday Jagdeo revealed that Government confirmed Georgetown Public Hospital Corporation (GPHC) Chair and lawyer Kesaundra Alves and retired High Court Judge, Justice Claudette La Bennet as nominees the President has no objection to.
Both women were part of a list of eight nominees the President submitted to Jagdeo as part of the informal consultations to come up with a GECOM Chair. While the Constitution does not allow the President to submit names, Jagdeo suggested that the President can informally suggest names of persons.
But according to Jagdeo, who hosted a press conference at his office, the parliamentary Opposition is still unclear as to which of his nominees have the President's no objection.
"We'll share these letters with you, to show that we sought to meet, since the President said he wants to conclude the matter by Monday. We sought to meet, no response to that. Then out of the blue, they submitted the two names to us. We don't know what it means for their list of eight, whether they shortlisted their shortlist."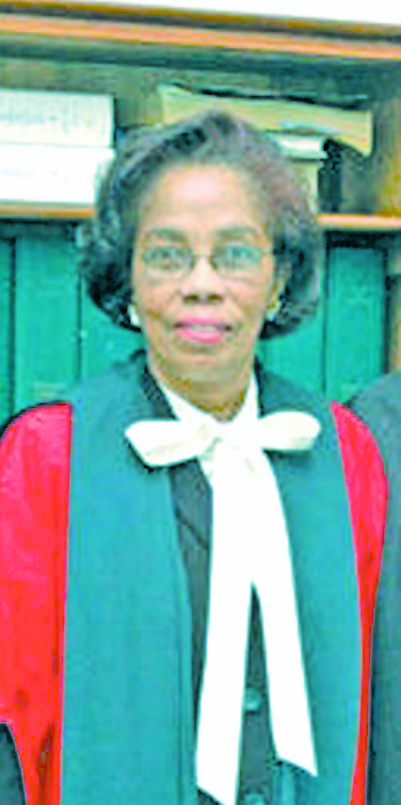 "We sought to remind them that once the informal process of engagement has been completed, we still have to go through the formal process. And that's where it starts with the President writing me and informing me of the vacancy. Then I will submit the six names."
Jagdeo pointed out that when the President's representatives met his representatives last week, they shortlisted names without the President's approval. He noted the importance of them following the process by the book, so the President does not have an excuse to reject another list.
"None of this is [by the President's representatives] is being done with the President's approval. They undertook to get this. They came to the meeting and said they can't tell us what the President's thinking. The elephant in the room is whether any [names he submitted] are acceptable to the President. Any of the 11."
"That's what we've been trying to find out for a whole week after all these engagements and until today, we are not clearer if a single one of six are acceptable… you suggested eight names and then you come back and say of the eight names, they don't all have the President's approval. That's what his team said. This is a game, to hang on to power. It's so transparent."
Deceit
Jagdeo also criticised Granger for his recent admonitions that the Opposition Leader acted in bad faith by resubmitting previously rejected names. According to Jagdeo, he submitted those names because of an agreement between himself and the President.
"Both sides agreed to establish a joint working group, which would shortlist the names to six and present the list to the Opposition Leader before it is presented to me. It was also agreed that the names would include [my] suggestions. I said it was up to the Leader of the Opposition to submit names of persons who had already been submitted on the previous three lists," Granger also said on July 9 during an address to the nation, adding that they were acting based on these agreements.
"The President himself, after the meeting at his office on July 4, in response to a question from the media, said the following; 'if I could add, the Director General was quite clear. The Leader of the Opposition is free to submit the names which have already been submitted in the three previous iterations. He has agreed to confirm that those persons are still willing to have their names submitted."
"Now a few days later, the President said me submitting those names was an act of bad faith. Clearly, this is an act of dishonesty," Jagdeo said.
Claudett La Bennet
It is not the first time that Justice La Bennet's name has appeared in the running for GECOM Chairperson. In 2017, prior to the unilateral appointment of retired Justice James Patterson, President Granger had been adamant that he was not leaning towards appointing La Bennett.
According to the Head of State, he was still in the process of reviewing the nominees and, therefore, has not made any decision on the matter. At the time, there were reports that the President intended to reject the lists put forward by Jagdeo and make a unilateral appointment… which turned out to be true.
But this publication had learnt from sources that the President's choice for the post has always been retired Justice La Bennett, a former High Court Judge who once had a restraining order issued against her in 2009.
Meanwhile, a political analyst commented on the situation told this publication that it appears as if the President now wants to repeat unilateral appointment via "nominee" ploy.
Jagdeo had submitted a list for GECOM Chairperson that included retired Major General Joe Singh, who served as GECOM Chairman years ago; Environmentalist Annette Arjoon-Martins, retired Justice of Appeal BS Roy, businessman Captain Gerry Gouveia, Attorney-at-Law Kashir Khan, former Magistrate Krishnadatt Persaud, Conflict resolution specialist Lawrence Latchmansingh; Retired Major General Norman McLean, businessman Ramesh Dookhoo, Retired Puisne Judge William Ramlall and Onesi La Fleur.
But in a turnaround, Granger then submitted a list of nominees of his own that featured the return of former GECOM Chairman retired Justices James Patterson, in addition to La Bennet, Alves, Stanley Moore, Aubrey Armstrong and former Solicitor General Kim Kyte. The President also proposed known PNC-affiliates and businessmen Stanley Ming (a former PNC Parliamentarian) and Kads Khan.