The Caribbean Court of Justice (CCJ) on Friday stood firm in its determination that the no-confidence cases be expedited, shooting down pleas from counsel for their full time for filing cross appeals.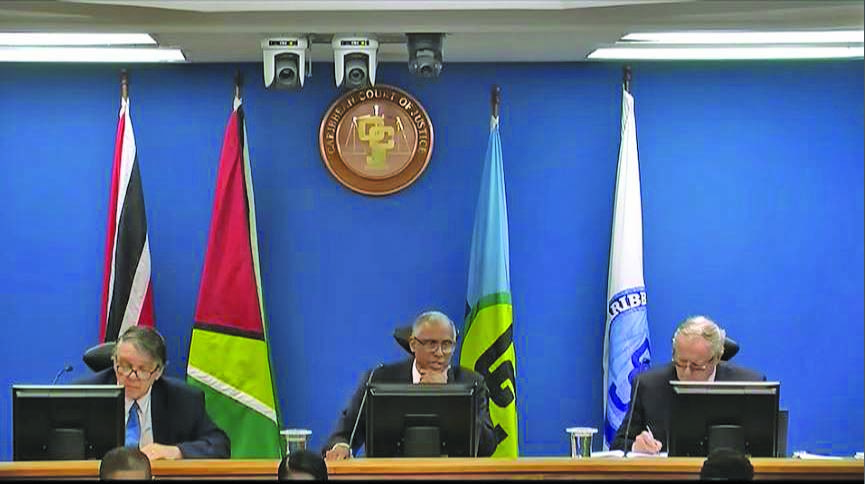 The CCJ had asked all parties involved whether they had objections to the cases being expedited. Here, Senior Counsel Neil Boston, who appeared on behalf of private citizen Herbert Reid, noted that he has no objections, save for abridgement of the matter.
Boston explained that if they filed their matters urgently, they would likely need their full 21 days to file cross appeal. He noted that this is a highly important matter and they will not sacrifice preparation at the "altar of expediency".
In his remarks, CCJ President Adrian Saunders acknowledged that the attorneys have their rights to their 21 days. But he noted that the urgency of this case and the need to ensure a balance between time and the need to uphold Guyana's Constitution.
"Overarching, standing above your right to have your full 21 days, is the Constitution of Guyana. And this court is concerned and duty bound to uphold the rule of law and the Constitution of Guyana," Saunders said.
"And if it is necessary in order to do that, that the matters be treated as urgent and timelines be abridged, then I'm afraid counsel will have to put themselves in a manner that can accord with the directions we give. We are not here to give you all the time that you need. We are here to balance your right to have reasonable."
Saunders pointed out that many of these submissions were made before in the lower courts. This view was reinforced by CCJ Judge David Hayton, who noted that all parties involved have already had rehearsals at the High and Appeals Courts.
"You've had dress rehearsals already, before the High Court and the Court of Appeal. And their judgements (were rendered). So one would have thought that not that much extra work was going to be involved, if you have fewer than 21 days," Hayton observed.
As a consequence, the CCJ ordered that the three no-confidence cases be consolidated and abridged to save time and that the hearing take place on May 10 at 09:00h, with April 8 being given as the deadline for filing cross appeals. April 17, however, was given for written submissions and the April 23 to reply.
A pre-trial hearing will be heard on April 24, where issues concerning the order and length of oral submissions will be addressed. Saunders warned attorneys to avoid duplicating submissions and to also ensure they are physically present for the hearings and not tuning in via video conference, as was done by Williams' lawyer, Senior Counsel Eamon Courtenay.
The three cases deal with Christopher Ram v The Attorney General of Guyana, the Leader of the Opposition and Joseph Harmon; Opposition Leader Bharrat Jagdeo v the Attorney General of Guyana, Dr Barton Scotland and Joseph Harmon; and Charrandas Persaud v Compton Herbert Reid, Dr Barton Scotland, Bharrat Jagdeo and Joseph Harmon; the last of which deals with Persaud's eligibility to vote in the House.
In the case of Ram vs the Attorney General, the political activist had petitioned the High Court to have Government resign and President David Granger call elections within 90 days as stipulated by Articles 106 (6) and (7) of the Constitution.
Last week, the Court of Appeal ruled in a 2:1 split decision that a majority of 34 votes would have been needed to validly pass the No-confidence Motion brought against the Government last year. While Justice Rishi Persaud had dismissed the appeal and conferred with the ruling of the High Court, his colleague appellate Judges allowed the State's appeal.
Both Justices Yonette Cummings-Edwards and Dawn Gregory opined that while 33 is the majority of the 65-member National Assembly, the successful passage of a no-confidence motion requires an "absolute majority" of 34, and not the "simple" majority of 33 that has been used to pass ordinary business in the House.