…focused on evolving as batting all-rounder
The humility of Keemo Paul is simply admirable. During an interview of Paul on the Maroon Hangout via Instagram live, he disclosed that Guyanese cricketing heroes Shivnarine Chanderpaul and Ramnaresh Sarwan were his local heroes growing up.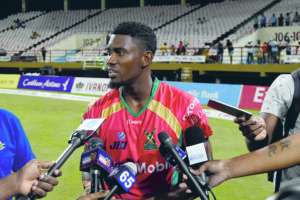 "I basically looked up to Shivnarine Chanderpaul most of the time. He was a Guyanese and he was doing pretty well for the West Indies team back then," Paul disclosed.
"I looked up to him and Ramnaresh Sarwan as much as possible, because they were Guyanese and they were doing pretty well for the West Indies; and every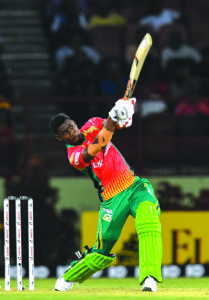 time you looked, you will see them in the newspapers, and that sort of motivated me, to see a fellow Guyanese doing well," Paul disclosed.
The 22-year-old all-rounder further disclosed that he is aiming to become more of a batting all-rounder than the bowling all-rounder he is currently. "Growing up, I was a batsman during the Under-15/Under-17 days. I have always loved batting, but for the past years I've made it as a bowling all-rounder," Paul explained.
Paul served as replacement player for Sheldon Cottrell in the World Cup Qualifier, and his international career kick started then. "For now, the bowling is dominating; but I want that to change, I want to be someone that scores consistently in whatever position I come in for the West Indies. That is something I am working hard on; I want to be a batting all-rounder," Paul explained.
The lad from Essequibo, who has had the privilege of playing all three formats of the game for the West Indies, also had a taste of the Indian Premier League and the Hero Caribbean Premier League.
Speaking about how he deals with criticism on social media, he said, "For me, I try to stay off social media as much as possible. I don't post (many) pics, I tend to stay around my circle, and let my family be my strength. I don't allow this to bother me, at the end of the day, everyone has their opinion," the focused Paul noted.
Paul says he turns a deaf ear to negativity, and noted that negative comments act as a motivator to him. "As a professional sports person, you have to expect that (positive and negative comments), but you gotta know how to take it while building and moving forward," he cautioned.
In the West Indies set-ups, Paul and fellow Guyanese Shimron Hetmyer have, over the years, enjoyed a special bond. Paul describes Hetmyer as more than a friend, but as a brother, their having played Under-15 cricket together.
"Sherfane Rutherford also came in (the Windies set-up), and we are very close. We just try to motivate each other and support each other," Paul explained.
Sharing some sentiments on being an all-three-formats player for the West Indies, Paul noted that it is tough. "Physically, it breaks you down. You have to be eating right, and you have to put in the work. Mentally, it is tough, but you always have to be focused on what's ahead. I love playing for the West Indies, and this drives me to just perform; but I see this as something great," an impassioned Paul declared.
Asked what was 'his favourite wicket', Paul responded: "Virat Kohli". If given the opportunity to bowl to a past international player or a Caribbean one, Paul noted that Jacques Kallis and Brian Lara would be those batsmen. (Brandon Corlette)