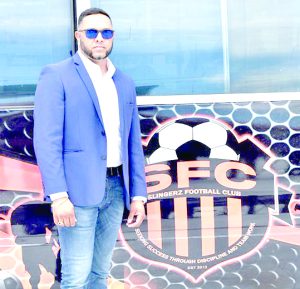 Decorated former National player Charles 'Lilly' Pollard has returned to the Slingerz Football Club as the 'West Side' Champion's Head Coach.
Pollard, 49, served as Head Coach for 2013–2014, when the team won the West Demerara Football Association (WDFA) League and the Georgetown Football Association (GFA) Banks Beer Cup.
A former national captain and one of the most feared defenders during his long and illustrious playing career, Pollard has had considerable success following his transition to coaching since retiring as a player. Apart from leading Slingerz FC to several titles, he also won the recent GFA League as Head Coach of Western Tigers Football Club.
The former Caledonia AIA, San Juan Jabloteh, and North East Stars Captain and TT Pro league winner is the Golden Jaguars' Assistant Coach. He
Says he is "extremely grateful for the opportunity to lead Slingerz FC in battle against some of the top teams and players in Guyana."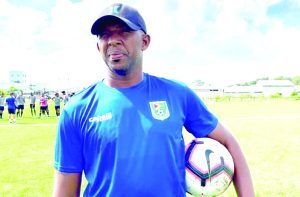 "I've been here before, and I will be looking to continue adding to the club's legacy of being successful," Pollard has said.
Pollard will be leading the team following their fruitful return to football last June, after they has stepped away from the sport in 2016. The team's former Head Coach, Vurlon Mills, will serve as Pollard's assistant.
Meanwhile, Slingerz FC president and founder, Javed Ali, has lauded Pollard's return to the club. Ali noted, "Pollard is rejoining the team at a critical time, since we're also nurturing some of the best young talents in Guyana. It is important to have someone as accomplished as Pollard leading the team, since the youths can learn from someone who is a true professional and a very accomplished player and coach. Pollard played an important role in the success of Slingerz FC before we regrettably stepped away from the sport, and his return is to also help the club reclaim the top spot in Guyana's football once again."
Apart from capturing the first edition of the GFF Elite/National League, Slingerz FC won the Bank Cup (2013-2014), West Side Mashramani Knockout Tournament (2013 & 2014), WDFA League (2013, 2014, 2022), Mayor's Cup (2015) and the Kashif and Shanghai Tournament (2015).