Two children – a one-year-old and a four-year-old were among six people who were injured in an accident at Yarrowkabra, Soesdyke-Linden Highway, on Tuesday morning.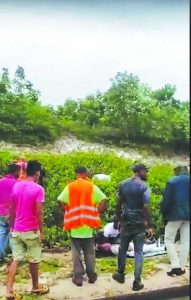 The accident reportedly occurred around 11:40h and involved motor car bearing registration number PAB 2411 driven by a 33-year-old man of Half Mile Wismar, Linden.
Those injured are Ayanna Liddell, 19; Amaica Liddell, 4; David Warde, 24; 1-year-old Nitchell Warde; Mitchell Petters, 36; and the driver, Paul Archer.
Police stated that on the day in question, the motor car was proceeding along Yarrowkabra at a fast rate of speed when the driver lost control of the vehicle thus causing it to topple several times before coming to a halt on the grass parapet.
As a result, the driver and occupants received injuries and were pulled from the wreckage by public-spirited citizens and taken to the Diamond Diagnostic Centre where they were treated.
Archer, David Warde, and Nitchell Warde were treated and sent away; while Petters, Amaica Liddell, and Ayanna Liddell were taken to the Georgetown Public Hospital for further medical treatment.