Twenty-nine-year-old Godfrey Gill called "Chucky" who confessed to the brutal killing of 76-year-old David Ramkissoon, whose body was found with his throat slit in his Better Hope South, East Coast Demerara (ECD) home, was sentenced to 11 years and four months in prison.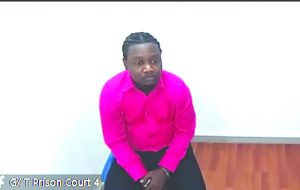 The custodial sentence was imposed on the convicted killer on Friday by Demerara High Court Judge Simone Morris-Ramlall. Last month, Gill, a father of one, was indicted for the capital offence of murder. He, however, opted to plead guilty to the lesser count of manslaughter.
On August 21, 2016, he unlawfully killed the pensioner during the course/furtherance of a robbery.
It was reported that following the discovery of the pensioner's dead body, footprints were seen in the mud at the back of his yard, leading to an alleyway. Along with the footprints, drops of blood were spotted, and they led to a shack located a short distance from the slain man's house.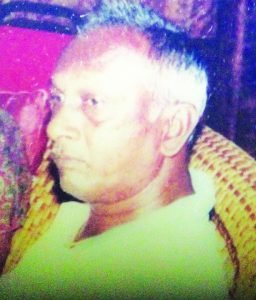 The man's dead body was found by his son, Anand Ramkissoon, who also lives at the aforementioned address with his wife and two children. He found his father's body facing the wall in a sitting position in a pool of blood. An undisclosed amount of cash was missing from the home.
The junior Ramkissoon told the court that he is still distressed by his father's gruesome killing. He said ever since his father died, he no longer has the urge to work or socialise.
I'm sorry
Gill, who appeared in court via Zoom, was reduced to tears as he beseeched the Judge for mercy, blaming his involvement in the crime on his association with "bad company". He added, "I am very sorry for all that happened. I did not want anyone to get hurt. Because of the bad influence of the bad company I had… [this happened]. I'm sorry for being part of the act…".
Meanwhile, a probation officer said that residents in Gill's community revealed that he was a very quiet and respectable young man until he started associating with persons of "nefarious" character. According to the officer, prison officers described Gill as a disciplined and co-operative inmate who is scheduled to partake in skills training and anger management courses later this year. Prior to his involvement in this robbery/murder, he had no criminal record.
God-fearing
During a plea in mitigation, Gill's lawyer, Dexter Smartt, submitted that his client pleaded guilty at the earliest opportunity to not only bring the matter to finality but also to give the dead man's family justice. He said that Gill has always been a person of good character.
The lawyer told the court that his client grew up in church and has always been a God-fearing young man. Considering this and his client's youthful age, Smartt added: "He could be rehabilitated. The fact that he did not complete secondary school but still went on to a technical institute and the fact that he worked several jobs means that he could be of use to society."
For her part, Justice Morris-Ramlall agreed with counsel that the convict has good prospects for rehabilitation. After weighing the aggravating and mitigating factors, she sentenced Gill to serve 11 years and four months in jail, less time spent on remand. He was initially charged in September 2016 and remanded to prison.