The Central Islamic Organization of Guyana (CIOG), in collaborating with the Military Information Support Team of the US Embassy in Guyana,
hosted a Fun Day for the children of Maria Elizabeth/Three Friends Mine in Linden, Region 10, on Saturday last.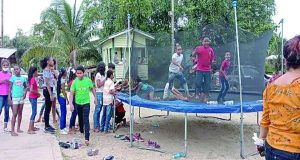 The event, which catered for more than 150 children ranging from one year old to 16 years old, saw children participating in several games, including cricket and football; and the winning teams were awarded trophies and other prizes. The children were also able to have their faces painted, and were facilitated to play on the trampoline.
Moreover, Tigger the Tiger made an appearance, and played with the children even as he distributed goodies and gifts to those who were present.
The CIOG thanked its donors who made the event possible for the little boys and girls. Gratitude was extended to the US Embassy, the NDC of Maria Elizabeth/Three Friends Mine, Guyana Beverage Company, Caribbean International Distribution Inc, Ricks and Sari, D Singh Trading, Clear Waters, Rahaman's Fruits, and Feroze Khan.
"Our sincere gratitude (is extended) to the entire team who gave their time and effort to make this event a happy and memorable one for the kids," the CIOG has said in a release.