…says financial support will come only after audit
Local Government and Regional Development Minister, Nigel Dharamlall has voiced concerns of the level of political directiveness at the Georgetown Mayor and City Council (M&CC), noting that it is counterproductive to good governance.
He made these remarks during a recent engagement with the media, sharing that it is one of the reasons in which financial undertakings and overall management will be scrutinised via an audit.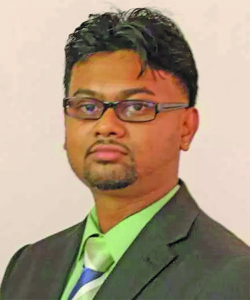 "One of the reasons that we called for an audit is because we do not believe city hall is above board in terms of their decision-making and financing. We also believe that the Council itself imposes its values on the administration of City Hall. That incongruence cannot be part of the principles of good governance," Minister Dharamlall expressed.
He said it is to the extent that "political directives are forced upon the administration of City Hall". He went on to say that officers must conduct themselves professionally.
"City Hall should not be doing so. The Administration is comprised of professional people and they must do their work professionally."
Audit
The Ministry would have written the Auditor General, Deodat Sharma, seeking an audit into the operations of all 10 municipalities across Guyana. Thus far, Sharma has responded to say that they will commence soon. This is not just a financial audit, but one that will identify the inefficiencies of the municipalities.
Dharamlall positioned that until the audit is complete, Government will not provide support to the institution – which has often failed to demonstrate accountability.
"The Auditor General has responded to me, to say that they will begin auditing and City Hall is one of those to be audited. I think as soon as the audit is complete, then we will be in a better position to provide support because City Hall is an institution which engages in activities that are counterproductive to good Government. Some of those hinge on unlawfulness and illegality and why should we provide support to an institution like City Hall that does not subscribe to accountability," the Minister noted.
He went on to say that they have provided resources to the Council, which they should have been expending at this point in time. The administrative building that is under construction on the premises of City Hall is also as a result of the Ministry's intervention.
When questions were raised about the lack of documents, the Minister said there is ample information to carry out such.
"I think there's enough documentation at City Hall for a proper audit to be done. We will not have the elements of the Council standing in the way of the audit being completed properly and actions to be taken."
Just over one week ago, the cash-strapped City Hall appealed to Government to bail it out as its monstrous debts are piling up. Georgetown Mayor Ubraj Narine pleaded with Government to bail out the entity by allocating funds to the Council which is faced with over half of a billion dollars in debts that continue to climb.
Of this sum, $100 million is owed to garbage collection contractors, $400 million is owed to the National Insurance Scheme (NIS) and over $20 million in retroactive salaries is owed to staffers of the City Constabulary. Narine reported that the Mayor and City Council was struggling to pay staffers amid the COVID-19 pandemic, which has resulted in it recording a 78 per cent decrease in revenue earnings.