– signifies a 90% increase for corresponding period last year
The Cheddi Jagan International Airport has reported an increase of 90 per cent in passenger arrivals for September 2022 when compared to September 2021.
"During the month the airport processed 31,050 arriving international passengers. This notable increase in passenger arrivals is evident in the influx of visitors for the Cricket Carnival activities," a release from Guyana's main port of entry stated.
However, commenting on the record-breaking numbers, Chief Executive Officer Ramesh Ghir expressed, "This is the highest number ever recorded for September. I believe the enthusiasm behind the Cricket Carnival activities is responsible for these numbers we are seeing today."
Further, he noted that "During this period, our overall objective was to ensure an efficient, hassle-free arrival process. We worked with our stakeholders to put systems in place to avoid any delays."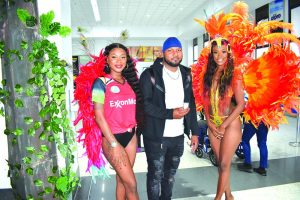 He also stated that the CJIA is pleased to support President Irfaan Ali's vision to celebrate, promote and market Guyana's rich vibrant culture, especially during the Cricket Carnival period.
Cricket Carnival is being held under the "One Guyana" banner which aims to bring people together and unify the country. During this 16-day period, a number of events were hosted to promote Guyana's tourism sectors.
These include food festivals, regatta, the Miss Cricket Carnival Pageant, super concerts, beach parties, and many more but more importantly, the hosting of the final leg of the Caribbean Premier League including the final.