By Shemuel Fanfair
On the heels of security threats at three top high schools, the country's premier tertiary institution, the University of Guyana has become the latest target of bomb threats with tense moments unfolding at the Turkeyen Campus on Tuesday when students and staff fled to the sports field in a bid to preserve their safety.
The suspected terror threat, which is believed to be domestic in its nature, forced the suspension of all classes with Police ranks, sniffer dogs, Guyana Fire Service operatives and other security operatives swopping down on the campus.
Guyana Times understands that students received messages on their mobile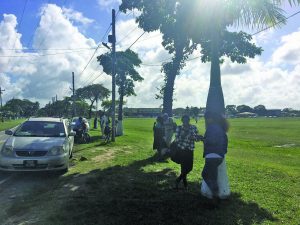 devices just after 13:00h which purported that there were two bombs planted and which would soon explode. The bombs, the text claimed, were hidden in haversacks that were strategically placed, which caused some to panic and flee classrooms and buildings with some even leaving belongings behind. After security agents were summoned to the scene, no explosive device was uncovered up to the time this publication visited the area as the authorities continue investigations into the anonymous text message. Guyana Times met briefly with the University's Vice-Chancellor Professor Ivelaw Griffith, who explained that a building-by-building assessment was being conducted to determine the safety of the staff and students. He said this was geared to ensure that classes would return to normal today as he sought to assure students that the institution will be a safe place. "The experience at other institutions in recent time has allowed people to appreciate where uncertainty of this kind is part of the reality; we are doing everything that is humanly possible to ensure the safety and security of the buildings and it would be wonderful for us all to return to work and study tomorrow (Wednesday)," the University's principal told this publication.
He went on to explain that there will be a general review of the protocol procedures that govern the institution. Griffith added that they did not want to take for granted that the threat was not credible.
Just after 14:00h, the Campus became a silent zone which was unlike its usual atmosphere where students can be seen traversing the roads and buildings engaging in debates, intense conversations, laughter or hurrying to attend classes. It was a scene of worry for some who told Guyana Times they will await official word from senior academic staff before they can comment on the situation. Nevertheless, others took it with less fear, saying they did not panic when they were led to assemble on the field.
This latest incident follows threats carried out to School of the Nations, Queens College and the Bishops' High. The threats were given added attention after Nations' Director, Dr Brian O'Toole was shot at his home; the Briton is now recovering. This led to the private institution halting operations for several days.
Meanwhile, Police ranks were placed at Queen's College and other city schools. However, as this newspaper reported, only 100 out of some 700 students turned up for classes on Monday as parents became hesitant in allowing their children to attend school. Parents at QC had not been allowed to enter the premises but were asked to wait outside until classes were dismissed.