Sections of the Guyanese populace will on Sunday be celebrating Holi, whether at home in their communities or at the Guyana National Stadium, Providence, East Bank Demerara, where the annual Inspire Inc. will be running things with their Phagwah Mela.
After all the colourful abrack and abeer topped with powder, it is expected that the party will continue at Guyana's premier party spot, Palm Court on Main Street, Georgetown, where the Colour Festival is expected to run riot with scintillating performances from reigning International Chutney Soca Monarchs Ravi B and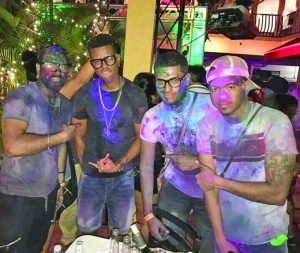 Omardath Maraj out of Trinidad. Fresh from Carnival action in the twin-island republic, the duo is ready to dish out a j'ouvert style Phagwah filled with fun and excitement for their adoring fans. Their hit songs 'Budget' and 'Ramsingh Sharma' will be booming through the speakers of the party spot come this Sunday.
The due will, in addition, be spilling other hits from the past to complement those from the present; and adding vibes to the party will be several popular deejays who are determined to see the dance floor well occupied all night long. Team MMR's WR Reaz and Selector Andy will also be in the house, to make sure patrons have an unforgettable experience.
Tickets for the event cost 2000, which entitle patrons to free Phagwah powder.