Former National Youth Cricketer and sports enthusiast Colvin Heath-London has indicated that he would be establishing a national Inter-Secondary Schools T20 Cricket competition, the inaugural staging of which would get underway later this month.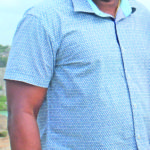 This competition, he explained, is being organised primarily to commemorate Guyana's 50th Republic Anniversary celebrations in February, but would also create an avenue to advance sports development among youths.
He explained that with cricket being a national sport, he is confident that through the sport, social cohesion and sports development can be further enhanced.
"There is need for continued social cohesion among the nation youths while getting more students actively and passionately involved in sports at the secondary level, and that is what this competition seeks to do, as it will afford the players an opportunity to interact while competing competitively with students from various regions," Heath-London has said.
The acting CEO of NICIL/SPU has stressed that, along with NICIL/SPU, there has been collaboration with a number of individuals and companies to make this competition a reality. He assured that the Inter-Secondary Schools T20 Cricket Competition would be one that every aspiring Guyanese and West Indian cricketer would look forward to, and disclosed that while he intends to have such competitions involving both male and female teams, this year's competition would be only for male teams.
He pointed out that the competition is expected to involve Regions 3, 4, 5, 6 and 10, and noted that some 72 teams would be participating therein. He said that regional winners would clash in a national playoff.
"This competition is expected to showcase some of our most talented and future cricketing stars, and will serve as a platform for clubs and other cricketing officials to spot some of the hidden talented player. As such, I intend to make this competition an annual event while demonstrating my interest and passion for sports development in a holistic manner," he disclosed.
The NICIL/SPU acting CEO, who had played three different sports at the national level during his younger years, has said that if the talent and skills of our young sportsmen and women are going to be further developed and enhanced, then there must be a platform for them to showcase their skills and abilities.
He said there are several talented students who, because of the various challenges and difficulties they face, are unable to realise the full potential of their talents; and he declared that he remains committed, with several other partners, to play a pivotal role in advancing youth development through sports.
This competition, which will be known as the Colvin Heath-London Inter-Secondary Schools T20 Cricket, will see the national semi-finals being played in Region Six, and the grand finale taking place at the LBI cricket ground in Region Four.
Heath-London is optimistic that the regions' responses would improve as a result of the important role and positive impact of the competition.
He declared that he would love to see all ten administrative regions participating in the competition, but noted that because of time and logistic reasons, exacerbated by financial constraints, all ten regions would not be participating in this inaugural competition.
He stressed that he would like to have at least another two new regions participating in next year's competition.
He said the competition is expected to bowl off in the third week of this month. "I am very elated with the response thus far, and would like to assure that all the required arrangements and systems are being put in place to get this competition off the ground smoothly. The responses…from several of the secondary schools are (also) heartening, as the excitement is already there, as several of the schools have been training and preparing since last year for this competition," he said.
He added: "This competition affords each school to use it as a yardstick in determining the level and quality of talent that they have within their school. Further, it will provide our young men with the required platform to be more engaged and involved in positive things."
He pointed out that the matches will be played at various cricket grounds on Mondays, Wednesdays and Fridays. According to Heath-London, he selected cricket because it is a sport that is played and loved generally by all Guyanese.
He added that there is a very close relationship between cricket and the sugar estates; therefore, he felt that it was the ideal sport to lend significant support in channelling positive behaviours and attitudes among young people.