Guyana's senior women's national football team the Lady Jags got their 'Road to CONCACAF W Gold Cup' off to a less than stellar start, suffering a 2-1 loss to Antigua and Barbuda on Wednesday afternoon.
Recently appointed Head Coach Omar Khan opted to kick-start the campaign with a starting XI that read: Goal keeper and Captain Chante Sandiford, Anya Tribune, Savannah Mordesir-Singh, Brianne Desa, Rylee Traicoff, Sandra Johnson, Samantha Banfield, Stefani Kouzas, Dylanna Makarowski, Jalade Trim and Otesha Charles.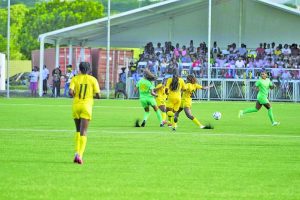 Playing at the Antigua and Barbuda Football Association (ABFA) Technical Center, Guyana experienced an early setback when Antigua's Gabrielle De Suza registered the first strike in just the 13th minute, to hand the home team the lead.
With Sandiford working overtime, Guyana managed to keep Antigua quiet for the remainder of the half. However, De Suza was not to be denied finding the back of the net again, in the 51st, for the 2-0 advantage.
The Lady Jags managed to pull one back in the 62nd when an infraction in the box allowed them a penalty opportunity. It was successfully converted by Brianne Desa, but the Lady Jags had trouble in trying to find the equalizer.
The Lady Jags now move on to Bridgetown, Barbados, where they are slated to take on Dominica on Sunday, September 24th, in a 'home game'.
Guyana has been drawn in Group A of the CONCACAF Women's Gold Cup qualifier, alongside Antigua, Suriname and Dominica. The top finisher in the group will secure a place on the CONCACAF W Gold Cup preliminaries next year.