Hadi's World Incorporated, a subsidiary of Mohamed's Enterprise, has partnered with China Harbour Engineering Company (CHEC) Guyana Inc to pursue its US$25 million quarry project to cater to the needs of the country's booming construction sector.
In June 2021, Hadi's World Inc secured its quarrying licences from the Natural Resources Ministry.
On Wednesday, the company signed a long-term Memorandum of Understanding with CHEC Guyana Inc to establish the quarry along the Mazaruni River in Region Seven (Cuyuni-Mazaruni), where the Chinese company will produce boulders and quarry aggregates for local and foreign construction markets.
The agreement states, "[CHEC Guyana Inc] shall exploit and produce boulders and quarry aggregates owned by [Hadi's World Inc]."
At the simple signing ceremony, Nazar "Shell" Mohamed explained that with his company undertaking several major infrastructure projects including the Vreed-en-Hoop port facility – in partnership with several local companies and a European construction company, it knows that demand is there.
"We have the NRG's Vreed-en-Hoop Shorebase Inc (VEHSI – the Guyanese-led consortium undertaking the port facility project) here, and there are so many other road projects, the [new Demerara River] Bridge, and so on. So, there is the demand for quarry products… we're going to provide boulders and aggregate for not only the local market but also the foreign market because we're going to have a lot of projects on board," he posited.
It was for this reason, according to the businessman, that Hadi's World took the decision to partner with CHEC to develop the quarry.
"We have been in discussions with CHEC for about one year now, and we have now finally entered into this agreement where we are partners in this huge project… CHEC is the one who would be doing the supplying of quarry products. They're going to set up the quarry along with Hadi's World Incorporated," Mohamed noted.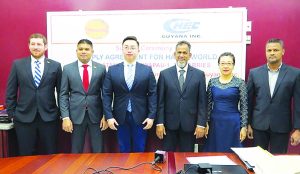 Meanwhile, the Director of CHEC's Americas Division, Dr Zhimin Hu, who is based in Panama, noted that the Chinese company has been in Guyana for over 10 years now and understood the market here as well as the demand. This, she pointed out, was the driving force behind the company's decision to partner with Hadi's World Inc to operate the quarry.
"We [will] work with Hadi's, together as a strategic partner, to explore and supply the aggregate, the materials for the construction industry. We believe, along with the economy booming in Guyana, we can provide better and sufficient infrastructure equipment very reasonably and highly efficient. So, we believe we can contribute to this country's development together," the CHEC official stated.
Hadi's World Inc obtained the licences for Kwapau Quarry Areas 1 and 2, and ATANA Quarry Blocks 1 and 2 in the Mazaruni Mining District 3 after receiving the green light from the Environmental Protection Agency (EPA).
The project will not only bring benefit to the construction sector by supplying operators but will also see the creation of jobs for locals.
Construction on the US$25 million quarry project is expected to start in two months.
CHEC Guyana Inc has been involved in major infrastructure projects in Guyana, both public and private.
The company did the Cheddi Jagan International Airport (CJIA) expansion project and more recently, the new Pegasus Suites and Corporate Centre. (G8)