One hundred families can look forward to occupying their homes in the very near future, as housing units under construction at Williamsburg/Hampshire, Region Six (East Berbice-Corentyne) near completion.
These are the first one hundred homes being built by the Central Housing and Planning Authority (CHPA) in the region. The project is currently being supervised by engineers attached to the agency.
Each is a two-bedroom flat unit, measuring 600 square feet. They are being built by 13 contractors at a total cost of $750 million. The Central Housing and Planning Authority on Monday informed that infrastructural works have also been ongoing simultaneously and upon completion, the entire scheme will be outfitted with basic utilities such as electricity and water.
When the project was announced in November last year, officials had noted that 500 persons would be employed in its execution. The houses are categorised as low-moderate and each will cost $5.5 million. The Housing Ministry had said it would be similar to those being constructed in Region Four (Demerara-Mahaica) for which persons are required to pay $7.5 million.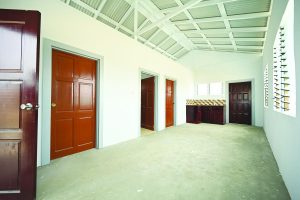 Similar contracts were also in the pipeline for houses to be constructed at Fort Ordinance in Region Six.
This news comes just after it was announced this week that 2000 persons who were allocated lands in Region Three (Essequibo Islands-West Demerara), will begin the construction of their homes by the end of April 2022. Works including roads, bridges and culverts are nearing completion in Edinburg, Anna Catherina, Cornelia Ida, Stewartville and Meten-Meer-Zorg. Water distribution and electrical networks are also being installed.
In keeping with its manifesto, the PPP/C Government has given its commitment to delivering 50,000 house lots to Guyanese within its first term in office.
In 2021, the Government surpassed its target of distributing 10,000 house lots to Guyanese through its signature "Dream Realised" housing initiative. Because of the huge demand for housing, coupled with a backlog of applications, the Government, when it got into office, initiated its signature "Dream Realised" housing exercise held in Regions Two, Three, Four, Five, Six, Nine, and 10.
In an effort to increase the opportunities for low- and moderate-income households to access the social and economic benefits of homeownership, the CH&PA in 2021, constructed over 550 houses for sale in several housing schemes.
Over 350 two-storey elevated homes are being constructed in Cummings Lodge, Greater Georgetown, targeting moderate income households. Similar model homes are also being built in Linden, Region 10.
For the low-income families, 50 low-income homes are under construction in Prospect on the East Bank of Demerara, while an area was identified to commence the construction for another 1000 of these homes in Great Diamond.
Further, under the Adequate Housing and Urban Accessibility programme, 25 core homes are under construction in Lust-en-Rust, Onderneeming, La Parfaite Harmonie, Recht-Door-Zee, and Westminster, targeting vulnerable persons.
Additionally, Government had processed close to 2000 titles and transports in its first year in office, while starting construction on 1000 houses and conducting massive infrastructural work – all part of an over $14 billion investment in the housing sector.
Plans for 2022 include the distribution of 15,000 house lots as well as the continuation of the home improvement and subsidy programme.
A sum of $12.4 billion was set aside in Budget 2022 for the housing sector, which goes towards the development of housing units and the necessary road network and other infrastructure to support these housing developments. There is also the soon to be completed four-lane bypass road from Mandela to Eccles, which has seen six contractors work on completing the important road link under the auspices of the Ministry of Housing and Water.
The Housing Ministry has also said it would work with other State agencies to make more land available for housing development. These agencies include the National Industrial and Commercial Investments Limited (NICIL); the Guyana Lands and Surveys Commission (GLSC) and the Guyana Sugar Corporation (GuySuCo). Land acquisition for housing development will be pursued.