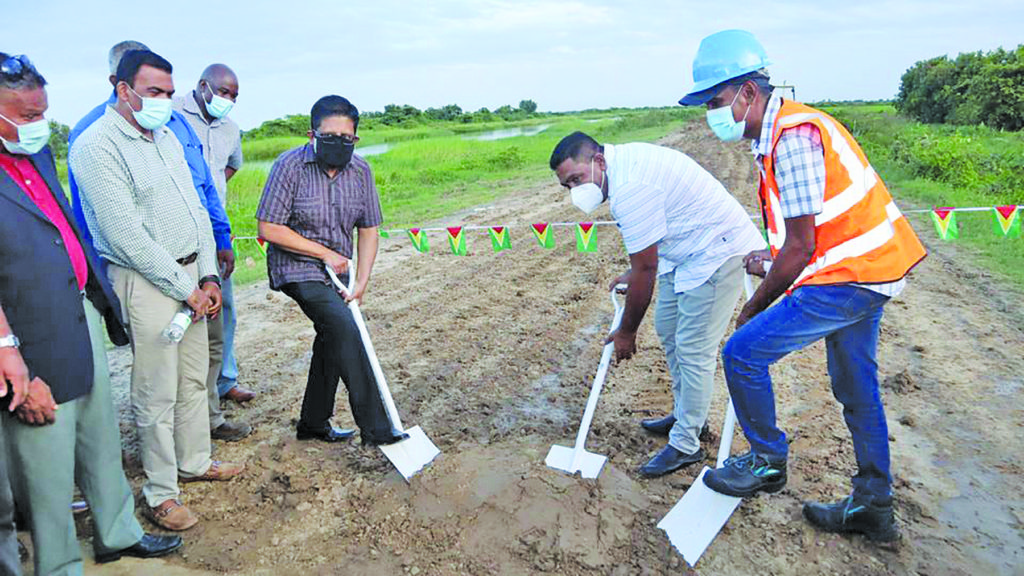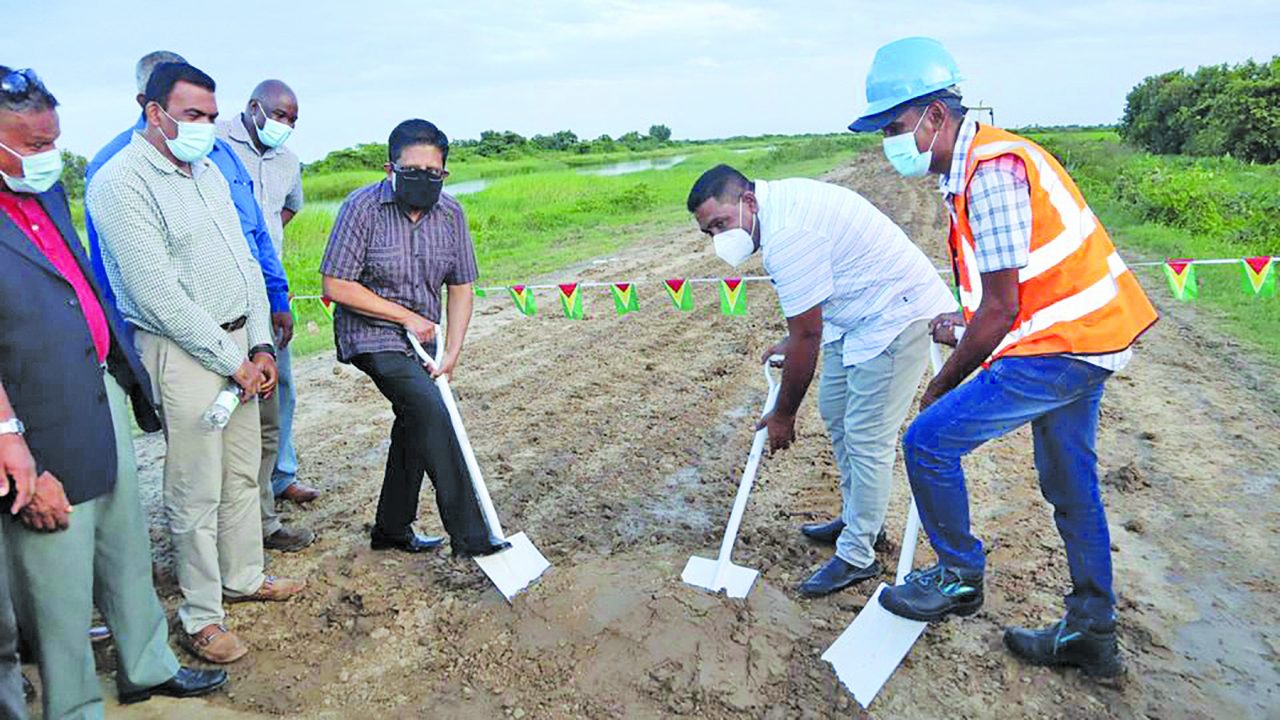 From left: Finance Minister, Dr Ashni Singh; Agriculture Minister Zulfikar Mustapha and Romel Jagroop of Romel Jagroop Construction Services turning the sod
To commemorate the commencement of the $327 million farm-to-market road at Onverwagt, West Coast Berbice, Region Five (Mahaica-Berbice), a sod-turning ceremony was hosted on Saturday.
Present at the ceremony were the Agriculture Minister Zulfikar Mustapha, Finance Minister Dr Ashni Singh, the contractor and officials of the National Drainage and Irrigation Authority (NDIA) among others.
The project was awarded through the NDIA to a Region Five contractor, who is also a farmer. The successful bidder, Romel Jagroop of Romel Jagroop Construction Services, has been tasked with the completion of the 5km asphaltic concrete road.
The Agriculture Minister was pleased that his Government is fulfilling its promises from its campaign manifesto.
Minister Mustapha stated that it is important to make investments in infrastructure in order to benefit the agriculture sector and farmers. He further stated that this is one of the three farm-to-market roads that will be constructed in Region Five.
The Minister added that the completion of this road will cause reductions in the cost of production and length of travel for farmers to their lands and the markets. In relation to machinery, the Minister related that the farmers can now expect less wear and tear of their equipment since it will be traversing the solid asphaltic concrete road.
According to Mustapha, 30,000 acres of rice can now be planted as access will become easier to the lands.
The contractor, Jagroop, in his brief remarks at the ceremony highlighted that he is pleased to be a part of the project and intends on completing the road according to the Ministry's specifications.
He estimated that the project will be completed in eight months. Engineers from the National Drainage and Irrigation Authority (NDIA) will be supervising the project.
However, the Minister also urged residents to liaise with NDIA officials to monitor the project to ensure value for the monies invested into the project.
Meanwhile, Mustapha added that when he took office in August 2020, he was bombarded by complaints from residents of the Mahaica-Mahaicony and Abary (MMA) Scheme ranging from clogged canals to impassible dams. To remedy this, he had requested emergency fund to begin works.