– Crime Stoppers consultant
Illicit trade is a phenomenon that impacts tobacco manufacturers, Governments and the tobacco control community, and which requires a coordinated international response.
This is according to Crime Stoppers International consultant Darrin Carmichael, who says it is becoming increasingly difficult to go after wrongdoers, as contraband is "big business".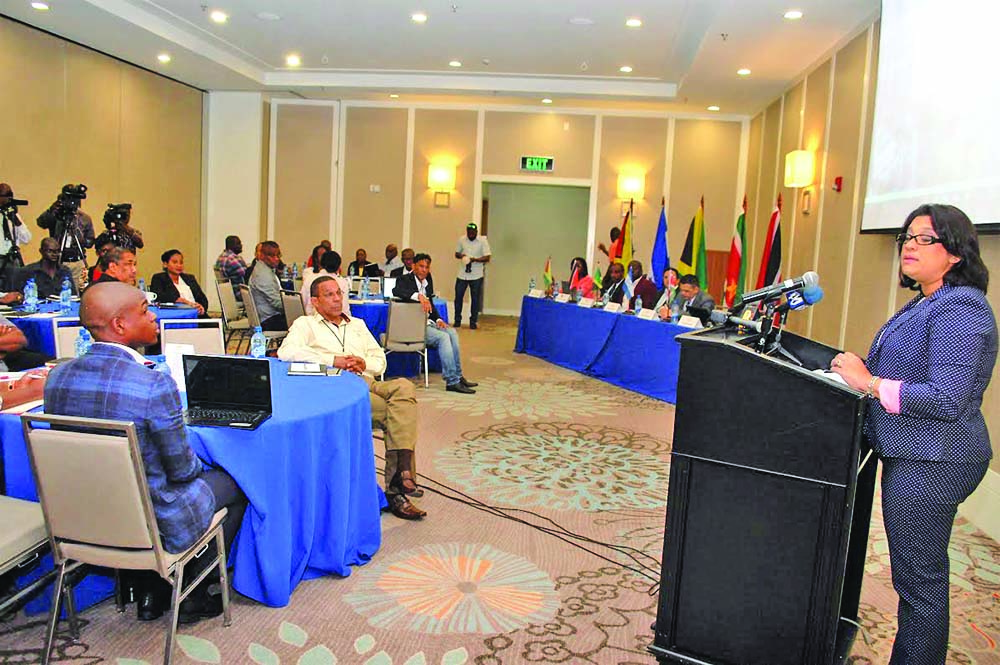 Carmichael stressed the need for public and private agencies to act in concert to combat the illicit trade, while delivering the feature address at an Anti-Illicit Trade Regional Conference held in Guyana on Thursday.
"Crime Stoppers International recognises that illicit trade is a growing problem worldwide, be it smuggling, counterfeiting, or tax evasion. Governments across the globe are losing billions of dollars in tax revenues. Legitimate businesses are being undermined and consumers in all our communities are exposed to unregulated, poor made and inferior products," he said.
Carmichael says it is a growing concern that the illicit trade does not have small operators and despite the many technological advances made to go after these smugglers, there continues to be expansive and substantial resources being invested in purchasing counterfeit devices.
He said, "Interpol states that gangs which traffic illegal drugs, weapons and peoples are also behind the illicit trade in tobacco trade and alcohol. According to the (US) Department of Justice, some of these groups have ties as well to terrorist organisations."
Meanwhile, Senior External Affairs Manager for British American Tobacco with responsibility for Central America and the Caribbean, Cesar Agurcia, said too that the illicit trade has become a large issue in the international market and it is a growing trend where every government and every country is fighting it.
"In the last 10 years, the illicit trade of cigarettes has been rapidly increasing to the levels that in some countries to date, the level of total consumption is reaching 70 per cent. This is obviously unacceptable," he asserted.
National security
Agurcia told participants from Guyana, Trinidad and Tobago, and Suriname that these smugglers evade taxes and the counterfeit item posed a health risk for the population, especially since manufacturers did not have any control and the products were being made in clandestine factories.
"Illicit trade is also a national security issue. Why? Because the profit of illicit trade is being put into organised crime around the world. The big money and real profit is going into real dangerous hands. That is why it's a national security issue in our countries," he added.
According to the British American Tobacco official, it would be difficult to assess the illicit trade. "There is no way to measure this because of the secrecy of these activities. But in the tobacco industry, 600 billion cigarettes are currently under the contraband scheme. And that represents a loss to Government from about US$50-60 billion. That money should be in Government's hands."
Instead, it is in very dangerous hands. Agurcia said not only was the tobacco industry suffering big time, but also the alcohol, pharmaceutical and many other similar sectors.
He said in Central America and the Caribbean market, there were more than 200 different brands of cigarettes. Most of these products are obtained from China or India, while in some cases, illicit drugs also come from Paraguay and Germany.
Increased taxation
In attempting to look at what may be assisting with the growth of this illicit trade, Agurcia said one of the most important factors is heavy taxation and too stringent laws. "If the taxation is extremely high, this will help contraband to grow. If taxation is really high, prices for the legal product will go up and you will leave a bigger space for the lower price segment which is being filled by contraband," he remarked.
Using Panama as an example, the tobacco manager said that the excise tax placed on cigarettes in that country was 100 per cent of the retailer's price and the legislation was too radical and drastic. "So much that it prohibits everything to the legal product. You will control the legal product but not the illicit trade."
The levels of contraband in Panama since 2009 have been above 50 per cent and today, it is around 70 per cent of consumption. "So, for every 10 cigarettes smoked in Panama, seven of them are coming from illicit trade. That is unacceptable in a country," he opined.
Further, Agurcia reasoned that more people were becoming attracted to this type of business. "It's more convenient to be a tobacco smuggler or other products, than to be a drug dealer. Because the profit is as good as the drugs, a lot less dangerous probably and they don't go to jail in most countries," he remarked.
Normalisation of the illicit trade, according to him, is also helping to add to the problem, because more people are buying tobacco products believing that they are buying legitimate products.
In providing a picture of the illicit trade of tobacco in countries within the Region, Agurcia said that while most Caribbean countries, including Guyana and Trinidad and Tobago, are below 20 per cent, countries like Suriname and Panama have rates exceeding 70 per cent in some cases.
In 2015, the volume of duty-not-paid cigarettes consumed in the world was some 463 billion sticks with an estimated value of US$40 billion. This figure has substantially increased ever since.
Every tobacco stakeholder continues to be impacted by illicit trade. Major companies and states suffer financial loss, and public health policies are usually undermined.