Finance Minister Winston Jordan on Monday hosted a meeting with a group of contractors, where a number of concerns were raised about unfair procurement policies for newcomers and other matters.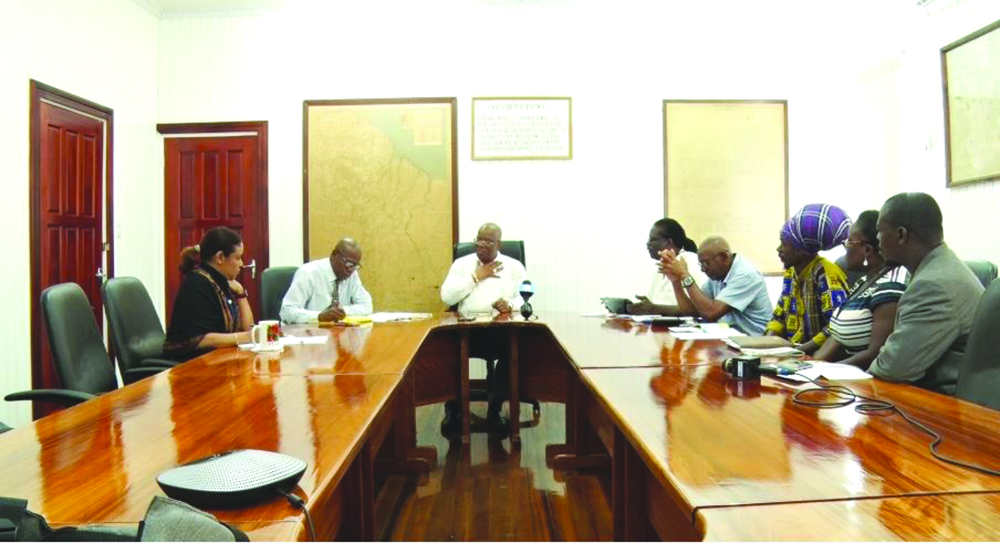 Jordan met with members of the General Contractors Association led by Neil Cort-Rogers in the Ministry's boardroom. There, Cort-Rogers laid out the Association's concerns, which include a lack of opportunities for small contractors when certain documents cannot be provided.
"Better provisions should be placed for newcomers. As contractors now entering the system, we do not have financial and complete statements. For example, we cannot provide statements of financial insurance like bid bonds and in some cases, there are cases where one-members will put up a transport so that three others can participate in a project."
Cort-Rogers explained that this in itself is a risk. He also noted that not many contractors have the capacity to keep up a business account. Therefore, he explained that it is difficult at times to present a financial statement in bid documents.
It was further explained that contractors are sometimes unable to acquire the performance bond needed for the contract. A suggestion was made that a non-banking institution be set up where contractors could get the finances needed to secure contracts.
"We need equipment… construction equipment. We need your help to get some of these so that members can benefit from this arsenal. Too many of our small contractors depend on others when we win tenders to supply equipment. And that money goes somewhere else instead of our pockets."
"I do rent equipment, but very small equipment, so that our contractors can be able to sustain themselves much better. But (we need) the heavy-duty equipment such as backhoe, excavators, bobcat and asphalt pavers. We also need printers. These things run a hefty sum."
National Procurement and Tender Administration Board (NPTAB) Chairman Berkley Wickham noted that they are bound by the Procurement Act. He explained that mechanisms are already being put in place to ensure small businesses get 20 per cent of all public procurement.
Jordan told the group that Government has been making efforts to make things easier for them. However, he committed to having NPTAB look into further ways in which help can be provided.
A slew of contracts costing $3.8 billion combined was awarded by Cabinet for the 2019 fiscal year. Of note is the fact that several of them feature increased costs from the original price tags. In the case of the contract for phase one the Public Health Ministry head office, this was awarded to Chung global enterprises.
Other contracts which were awarded include a contract for the Sophia Drop-in Centre, which was almost gutted by a fire in 2016. The contract is worth some $219 million, which turns out to be a revised sum.
In addition, there are contracts for constructing living quarters and a storage bond for the Guyana Revenue Authority. In fact, the storage bond, to be constructed at Corriverton, Berbice by Andre Vincente Construction Service, is slated to cost $124.8 million.
On the issue of roads, one such contract was for the construction of a new exit road from the Cheddi Jagan International Airport (CJIA) Terminal Building at Timehri. According to Harmon, this contract will cost $56.5 million and was awarded to Puran Brothers Disposal Inc.
Also included in these contracts is one worth $558 million to construct a roundabout in Mahdia, Region Eight (Potaro-Siparuni). This amount is an increase of $170 million from the previously budgeted sum. This contract was awarded to JR Ranch Incorporated.
There was also a contract for road works in Pomeroon awarded to R&B investment Incorporated that cost $41.1 million; a contract for road works in three lots in Regions Five (Mahaica-Berbice) and Six (East Berbice-Corentyne) that has been split into three lots.
Under the Small Business Act, 20 per cent of all Government contracts should be set aside for small contractors.