Donnessa McDonald-Harris says she has always been passionate about learning another language during her childhood years. As such, when she was growing up, she vividly recalls, her mother taught her Spanish, and she has fallen in love with the language ever since.
Last weekend, Donnessa McDonald-Harris graduated with a Bachelor's Degree in Education (Secondary) – Modern Languages: Spanish, a feat which caps the academic journey in the languages for the former Eversham Primary School pupil.
Academic journey
McDonald-Harris describes herself as a 'Corentyne girl.' Whenever she finds free time, she would be sure to journey to Brighton village on the Corentyne Coast in East Berbice, because it is where she was born and raised, and she returns there to spend time with her extended family. Her nursery and primary education were obtained on the Corentyne.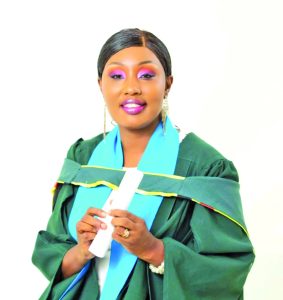 McDonald-Harris has always been a top student. When she sat the Common Entrance examinations at Eversham Primary, she was the top student for the school that year. She later attended the Berbice High School, and still later, Saint Stanislaus College in Georgetown.
Embracing teaching as a profession, McDonald-Harris pursued studies at the Cyril Potter College of Education (CPCE), majoring in English and minoring in Spanish. In 2009, she was adjudged the Best Graduating Student for the Georgetown Center at CPCE, and this inspired her to pursue studies in Spanish at the Venezuelan Institute, where she completed courses from basic to advanced level.
She says that throughout her education journey, her family has always been by her side, and according to her, she was always surrounded by her parents and her extended family.
"I enjoyed a memorable childhood with my siblings – Donyale, Dirkston and Dianne. My parents ensured that we received a sound education because it is the one thing that can make you succeed and pave the path to the future," she explained.
She said her parents Milton and Karen McDonald, and her husband Scot Harris, are her biggest inspiration. "They are the epitome of strength and selflessness. They ensured I received love and support during this journey, when it seemed too challenging. They also gave me everything I needed to succeed," she explained.
Love for Spanish
McDonald-Harris told Guyana Times that she is the only student who read for a Bachelor's Degree in Education (Secondary)- Modern Languages: Spanish at UG this year. She said she has always been passionate about Spanish, since her days at primary school. "I vividly recall that my mother used to teach us the vocabulary in Spanish that she learnt at secondary school. I loved reading 'A Simpler Spanish Course', a book she used at school," Donnessa said.
This schoolteacher has said that on the first occasion she studied Spanish as a subject in school it was fun, and she spent many hours repeating the long vocabulary list that her Grade Seven teacher gave the class to learn in preparation for a quiz the next time the class met. "I loved to watch telenovelas because the language seemed fascinating also," she said.
Relevance of Spanish
Today, her love for the language is very relevant to the Guyanese society, which is becoming more diverse, given the large number of nationals from Spanish-speaking countries resident here.
"I encountered native Spanish speakers from Cuba and Venezuela who were not fluent in English when I visited stores to buy items. I only interact with native Spanish speakers if they have difficulties understanding what a customer or I need in the store. The opportunity to interact with native Spanish speakers improves and boosts my confidence. It also makes them grateful when you communicate in a language they can understand," McDonald-Harris has said.
Teaching Spanish
As regards her degree, she said her latest academic accomplishment has equipped her with the necessary skills to impart knowledge and correctly use Spanish when authentically teaching students and others interested in learning the language. "Additionally, this degree will allow me more scope to interact with native Spanish speakers, and prepare my students to interact confidently in the future," she said.
Currently, she is the only Spanish teacher at the North Ruimveldt Multilateral School, and according to McDonald-Harris, her teaching methods include playing authentic materials, such as audios and videos of native Spanish speakers from different countries for her students. "These audios and videos allow students to experience the culture and correct pronunciation of various Spanish speakers," she said.
In addition, she said, she speaks the language as much as possible in the classroom. "Students enjoy fun activities such as playing interactive games, preparing Spanish cuisine, and singing, among other activities," she added.
She says that while she firmly believes Spanish is an essential subject that should be compulsory at every school, she believes there is need for more skilled Spanish teachers in the schools, since teaching a language does not only entail copying the information from a textbook and engaging in rote learning.
McDonald-Harris says the list of lecturers who contributed and imparted knowledge into her academic journey to date is too long for her to mention everyone, although she plans to call everyone on the list and express appreciation to them. That list, she said, includes Ms. Carmen Yusuf, Ms. Norma Applewhaite, Mr. Juan Romero Diaz, Ms. Melma Castro Nunez, Ms. Bonita Hunter, and Ms. Oslyn Campbell.
Unfortunately, she said, one of her lecturers, Mr. Gudelio Tabares, and her colleague Blossom Bowen died before her academic journey culminated this year.
She expresses kind words of encouragement to teachers of Spanish. "I want to encourage more teachers to study the Spanish language at university, to teach their students efficiently," the new university graduate has added.