The best eight teams have progressed from the round robin stage of the Corona Beer Invitational tournament and will be fighting in the quarter-finals for entry to the semi-finals.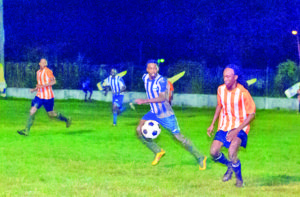 The tournament which began with 12 teams is now down to the business end. In the first two quarter-finals slated for tonight at the Georgetown Football Club ground, the matchups will make for intriguing contests as the resurgent Camptown FC take on Northern Rangers at 19:00hrs.
Camptown has the ability to steamroll opponents but needs to be disciplined and consistent if they are to progress beyond the quarter-finals.
The Northern Rangers started off slowly but have been consistent performers. They enter the quarter-finals on the back of a three game winning streak and obviously will seek to make it four. In the second quarter-final of the night, the unbeaten Western Tigers will take on the youthful Pele FC side at 21:00hrs.
The Tigers maintained their unbeaten run on Monday when they emerged as 2-1 winners over the Police FC.
Pele, who started off the tournament on solid footing, has turned in uneven performances. However, on any given day their talented young players can make light work of any opposition.
The remaining games will feature Santos versus Police FC and GFC facing Riddim Squad. Both of those games will be played at GFC on Sunday.