In keeping with its commitment to the continuous promotion of sport Courts Guyana has decided to pump in excess of two millions into its annual 10k event.
The furniture giant is making it possible for a seventh occasion for athletes to showcase their ability over 10 kilometres (km) distance race.
Therefore top and emerging athletes as well as the general public are all invited to compete in the event which affords a prize tap in excess of Two million dollars.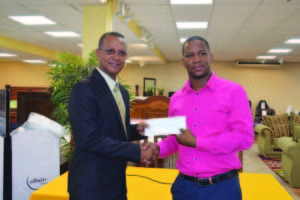 Speaking at a press conference to launch the Sunday, October 1 event Marketing Manager of Courts Pernell Cummings, noted that his entity is elated in its continuous drive of athletics as well as the overall fitness of the Guyanese public.
"Courts is once again happy to be a part of the event… It is a number of years we have been involved with the event and we are very happy to be contributing to athletics in Guyana and the overall fitness of the Guyanese public. I must thank the AAG for continuing to partnering with us and making the event a success, " Cummings said.
Meanwhile, President of the Athletics Association of Guyana, Aubrey Hutson, expressed gratitude for the partnership between the two entities while stating that the AAG is going to be more efficient this year.
In its history Cleveland Forde and US-based Euleen Josiah-Tanner have dominated and they are defending male and female champions respectively.
However, strong challenges are expected throughout the race as a strong field of contenders is slated to participate.
The race is scheduled to get underway at 06:00h on October 1 in front of the store's Main Street location.