…1 new case after 105 tests
After two days of constant results, Guyana recorded one new case of the novel coronavirus, bringing the total number of victims to 94.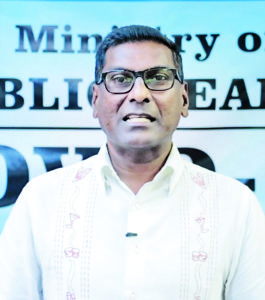 From Wednesday to Friday, 105 new persons were tested, but only  one returned a positive result.
Chief Medical Officer (CMO), Dr Shamdeo Persaud on Friday provided a breakdown of recent statistics, which showed that 785 total tests were conducted.
Total deaths remain at 10, 35 persons have recovered, with three persons in the coronavirus disease (COVID-19) Intensive Care Unit (ICU), three in quarantine, and 49 in isolation.
"To date, our COVID-19 ICU has had 26 patients with seven deaths being registered.  Thirteen persons have been transferred and three persons have recovered…Of all positive cases, children account for 5.4 per cent, adults 82 per cent and the elderly 12.6 per cent," he added.
In previous weeks, Georgetown has been labelled as the epicentre for the virus, but the East Coast and East Bank of Demerara have also seen positive cases. On the East Coast, positive cases were reported in Atlantic Gardens, Friendship, Golden Grove, Good Hope, Lusignan, Plaisance, and Strathsphey.
Meanwhile on the East Bank, there were confirmed cases coming from Diamond, Grove, Land of Canaan, Providence, and Timehri.
On Thursday, Dr Persaud cautioned Guyanese to maintain vigilance in the border regions, especially Region Nine (Upper Takutu-Upper Essequibo) given the alarming number of cases detected in Brazil.
The Portuguese-speaking country, which borders Guyana on the south, had confirmed another 6925 new cases bringing the total to 114,715 with 7921 deaths. He appealed to residents to desist from traversing the borders and to adhere to the coronavirus measures.
In the previous update, it was shared that the global fatality rate according to the World Health Organisation (WHO) stands at four  per cent while Guyana's fatality rate is a whopping 10.8 per cent. As such, the CMO indicated that many persons are asymptomatic which compounds the issue.
He highlighted, "This simply means that we must detect those in our communities showing no symptoms but requiring medical intervention.  From information provided globally, many healthy younger persons infected with COVID-19 do not display the usual symptoms. These persons can continue to transmit the virus to other vulnerable persons in our society by not practising control measures such as hand hygiene, physical distancing and the using of masks."
On Wednesday, Guyana recorded its 10th COVID-19 death – a patient of the Palms Geriatric Home.
In the Region of the Americas, the number of confirmed cases has increased to 1,542,829 confirmed cases with the number of deaths increasing to 84, 804 in the last 24 hours.
Globally, there are 3,672, 238 confirmed cases with 254, 045 deaths. These statistics were published by the WHO.