Opposition Leader Joseph Harmon has pledged to support Government's COVID-19 vaccination drive that is being rolled out across the country.
He made this commitment during a meeting between representatives of A Partnership for National Unity/Alliance For Change (APNU/AFC) and the Georgetown Chamber of Commerce & Industry Limited (GCCI) on Tuesday.
A statement from the GCCI explained that the meeting was held to discuss the Opposition Leader office's support for the National Vaccination Drive.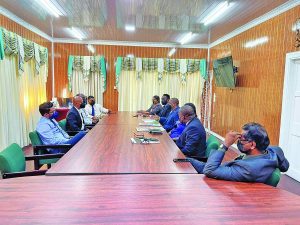 The Private Sector body pointed out that the COVID-19 pandemic has caused devastation globally, impacting the public health of citizens in an unprecedented fashion, and having deleterious effects on livelihoods and economic welfare.
The GCCI said it recognises the importance of citizens being inoculated against the novel coronavirus, and acknowledges vaccination as the best method of preserving life and restoring some degree of normalcy in daily life.
"It is with this in mind that the Chamber of Commerce requested a meeting with the Honourable Leader of the Opposition with the intention of a commitment from him to using his good office to encourage Guyanese citizens to be vaccinated against the novel coronavirus. In the meeting, the GCCI was encouraged to hear Mr. Harmon pledge his support for the National Vaccination Drive," GCCI said in the statement.
According to the GCCI, the Chamber looks forward to seeing Harmon using his office to publicly encourage, and promote through deliberate action, vaccination of Guyanese citizens.
The APNU/AFC Opposition has been critical of Government's COVID-19 vaccination campaign, which was launched back in February. In fact, back in June, Harmon had come under fire after questioning the authenticity of the Russian-made Sputnik V vaccine – the same jab that he took. However, he subsequently reversed his position, saying that he was only concerned about the handling of the vaccines by the third-party source from whom Guyana sourced the jab.
The Guyana Government had sourced the Sputnik V vaccines through the United Arab Emirates (UAE), after reaching a stumbling block with major manufacturers on procuring the jabs.
In addition to Sputnik V, Guyana is also using AstraZeneca, Sinopharm, Johnson and Johnson, and Pfizer as part of its vaccination campaign.
To date, some 383,013 persons, or 74.7 per cent of the adult population, have received their first dose of one of the vaccines, and approximately 47.9 per cent, or some 245,942 persons who are 18 years and older, are fully immunised.
As it relates to children, approximately 27,498 first doses have been administered to the 12-to-17-year age group. Of that amount, some 18,385 persons, or 25.2 per cent of that targeted age cohort, are fully vaccinated. (G8)