…but family says he was murdered
By Kizzy Coleman
Cross-dresser Donneikel Campbell, called "Mogo", of an unknown address in Georgetown, allegedly met his demise at about 03:45h on Sunday after he reportedly jumped into the path of a vehicle at Vreed-en-Hoop, West Coast Demerara (WCD).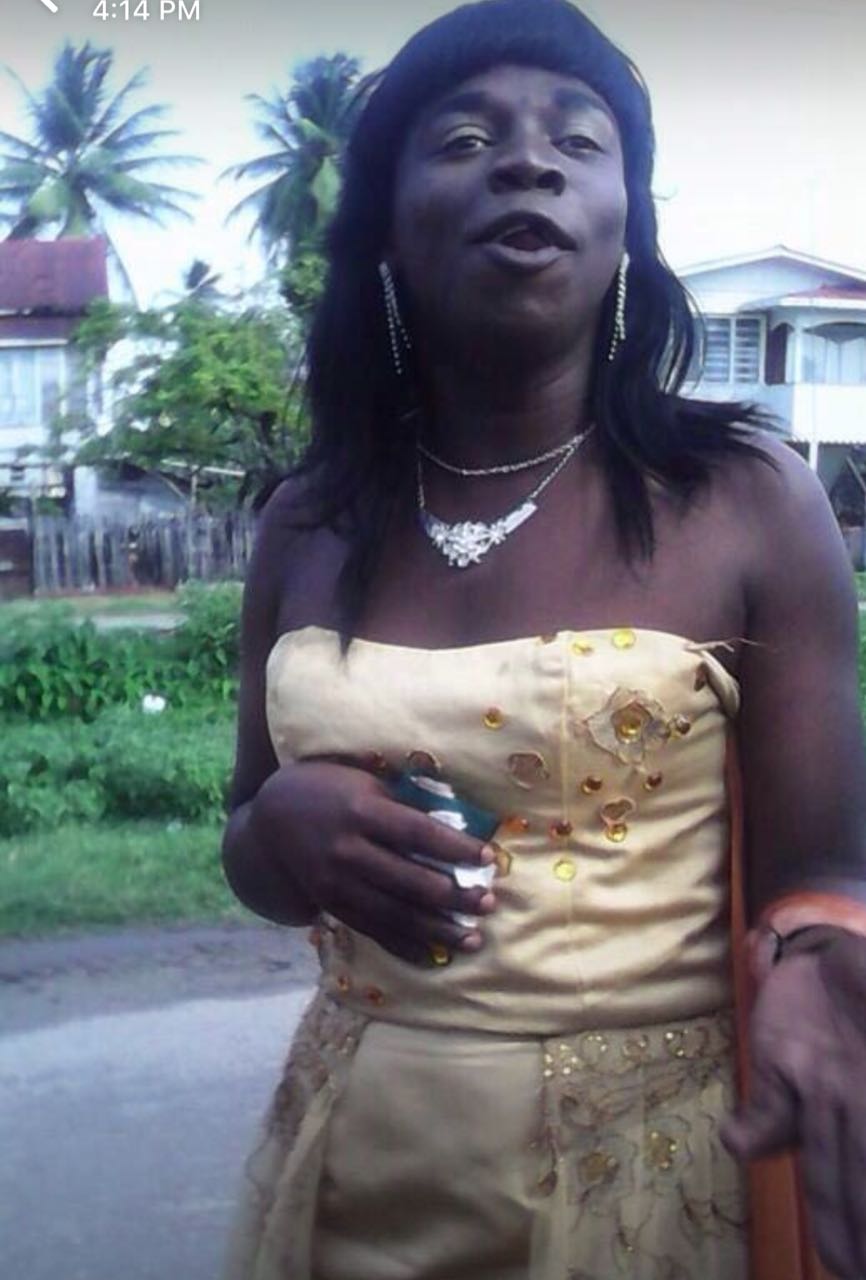 According to reports, the 28-year-old Campbell was a pedestrian when he was struck by motor car PRR 5279, being driven by a 40-year-old resident of Ruimveldt, Georgetown.
Guyana Times understands that the motor car was proceeding west along the southern carriageway when Campbell suddenly dashed across the road and into the path of the vehicle. He was struck, and reportedly fell onto the roadway in an unconscious condition.
Having received severe head and other injuries to his body, Campbell was rushed to the West Demerara Regional Hospital (WDRH), where he was admitted but later succumbed to his injuries.
A breathalyser test showed no alcohol on the breath of the driver of the motorcar, but he has since been taken into Police custody.
Cry foul
However, when this publication visited the home of Campbell's relatives at Ann's Grove, East Coast Demerara, his mother, Shunay Gooding, was adamant that her son had met his demise as a result of foul play.
The woman, who had lost another son to murder three years ago, said she was informed of the accident later on Sunday morning. She reported that she was visited by a Police Officer, who informed her of what had transpired on the West Coast of Demerara.
According to Gooding, Campbell had moved from Ann's Grove to live in Georgetown a while ago, but he would visit the West Coast of Demerara to check on friends that he had living there.
Having receiving the news of Campbell's demise, Gooding and other relatives of the late Campbell visited the Vreed-en-Hoop Police Station, where they were able to speak with the driver of the motorcar which had struck him.
"When we go to the Police Station, we saw the driver, and he telling me the story that how this bai run into he car," Gooding explained in tears.
The mother relayed that after the driver gave his account of events, her family was shown the car, and it was then that they doubted his story.
"If you see my son size. He say that this bai run into his car, but he car only got a small thing. So me say that this bai isn't a mad person; you didn't see when he coming? He say, 'Yes, but de boy done jump into the car'. I asked if someone was chasing him, and he said, 'No'," Gooding relayed.
The woman is speculating that her son was killed because of some misunderstanding he had with the driver of the car. She revealed that when checks were made inside the vehicle which had struck him, she saw his earing and sheets.
"Got to be some wrong thing play out there and (the driver) kill he (Campbell), and then he want put it over as an accident. He (Campbell) is a gay, so he mussy had business with him (the driver) and something went wrong. All my son had was one long chop by his ears. Is a wrong deal!" she insisted.
"He had a sheet in the car, so I asked him what the sheet doing there if he just pick up this man from the road after the accident, and up to now he can't answer me," the distraught mother revealed. According to Campbell's sister, even if the sheet was already inside of the vehicle, questions are being raised because the sheet was without any sign of blood.
"If what he is reporting to the Police is true and 'Mogo' was indeed involved in the accident, I don't see how the sheet that he said was in his car was without any trace of blood. How can someone with such a huge cut after an accident be placed on a sheet and not one speck of blood can be found on the sheet? Impossible! It's foul play!" the angry teen speculated.
She reminded that the driver reported that Campbell had jumped in front of his vehicle, but the only damages visible on the vehicle were to the side.
Campbell, who was described as a very fun-loving and friendly person, leaves to mourn his mother and four sisters.
An investigation has been launched into the accident.