Story and photos by Brandon Corlette
Team Evolution's cyclist Curtis "Chappy" Dey clinched the thrilling Archway Snackette/Restaurant 65-mile cycle race on a scorching Monday.
The Berbician stopped the clock in two hours, 52 minutes and 16 seconds in an exhilarating sprint home as hundreds flocked the Rose Hall Town roadways in excitement.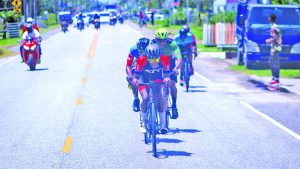 The race, which saw the top rider bagging $100,000, started with 25 at Rose Hall Town, and saw riders riding around the town of New Amsterdam, before going on to Number 51 Village, and returning to the famous Rose Hall Town Arch for the grand finish.
The champion rider was followed by his team-mate, Robin Persaud, who claimed second overall and finished as the top veteran.
Pre-race favourite and Guyana's last national champion, Romello Crawford came in third after he was dropped early, while the other big guns, Briton John (fourth), Andre "Padlock" Green (fifth) and Alex Mendes (sixth) rounded out the top finishers in the senior category.
The skilful John, who was unable to pull off his usual escape ploy, claimed five sprint prizes, while Green and Mendes had two sprint prizes. Deeraj Garbaran, the usual fast starter, had one sprint prize.
Persaud, Mendes and Paul Choo Wee Nam were the top three veterans, while Alexander Leung was the top junior. Berbician Mario Washington came in second while Aaron Newton came in third in the junior category. Marcia Dick was the top female rider while Anisha Crandon and Shemika Texiera rounded out the top three females. Cranston Dey was the top over-50 rider.
This race will now be an annual event, and will be held in memory of the late teacher and sport enthusiast, Sydney Cort.
The fab five leading the way
For a majority of the race, the fab five – John, Dey, Persaud, Mendes and Green – led the way. The entire peloton continued together, but Crawford was dropped, suffering cramps at Phillipe Village. At the turn-back point at Number 51 Village, the fab five continued. Dey and John started several attacks in their ploy to escape, but Green and his teammate Mendes did not allow that.
Crawford eventually reached the second peloton and then at Tain Village upon the return, he reached the fab five and showed his class. At the finish line, hundreds flocked both sides of the road, to see Dey edge past Persaud, Crawford, John and Green, by the slimmest of margins.
Dey credits team-mate Persaud for win
Dey, who plies his trade for the city-based Team Evolution Cycling Club, credited his team-mate Robin Persaud for the victory. He described the race as a very exciting one for him. "The race very exciting for me. I had to work a lot. It was a very long race. I did not expect this, so it was a good race, but we had to persevere at specific points."
When asked at what point he had the race in the bag, Dey said: "That is a tricky question, because I did not think I had this race today. I was feeling really down. I kept my head on, told myself that hopefully I can reach the turn-back point with 60-80 per cent of energy and hope to position myself good coming home. I had help from my team-mate Robin Persaud. We had a bad day, with some of our teammates dropping out of the race. Robin encouraged me to stay there. I am thankful for the win," Dey told Guyana Times Sport.
This race, which was held under the guidance of the Guyana Cycling Federation and received support from the Guyana Police Force, was sponsored by Tommie Bethel, Kennard Ramgaddo, KP Jagdeo General Contractor, RL Contracting, Digital Edge Photo Studio, Payless Variety Store, Sunil Pet Shop, Pammpy Chicken Depot, Akeem Poultry Depot, Royston Salamalay of USA, Satesh Car & Bus Rental, and Imran Bus & Car Rental.