Founder and lead dancer of the Ishara Dance Troupe, Shivanie Latchman, was on Sunday evening last crowned Mrs India Guyana Worldwide 2018 at an elaborate event at the M&M Banquet Hall, Peter's Hall, East Bank Demerara.
The Guyanese beauty, who was once a Miss Universe delegate, will represent Guyana at the international pageant slated for New Jersey, USA, between December 9 and 14.
The Guyanese beauty hails from Diamond/Grove, on the East Bank Demerara, and holds a diploma in computer studies and a diploma in marketing. She is presently employed at the Guyana Marriott Hotel as a Catering/Sales Manager.
Apart from work, she is a television host/producer of Entertainment Buzz. As the founder of the dance group, she was quite pleased to have taken it above the others with her blend of old and contemporary styles of filmi, classical folk Bharatanatyam, bhangra and Bollywood music.
Latchman performed with some of the Indian stars who visited Guyana, such as Karan, Abha, Purvi, Arjune and also as the back-up Dance India Dance, Winner Shakti Mohan.
In addition, the dance group performed at the 2014 Chutney Monarch 2014 Competition held in Trinidad. Dancing, the talented young lady said, is a passion of hers.
As a compassionate person, she gives back to the less fortunate and to humanity. In recent times, she has teamed up with the Nirvana Foundation. In addition, she has teamed up with the Divja Jyoti Association to work on the construction of a Ganga Maa Temple.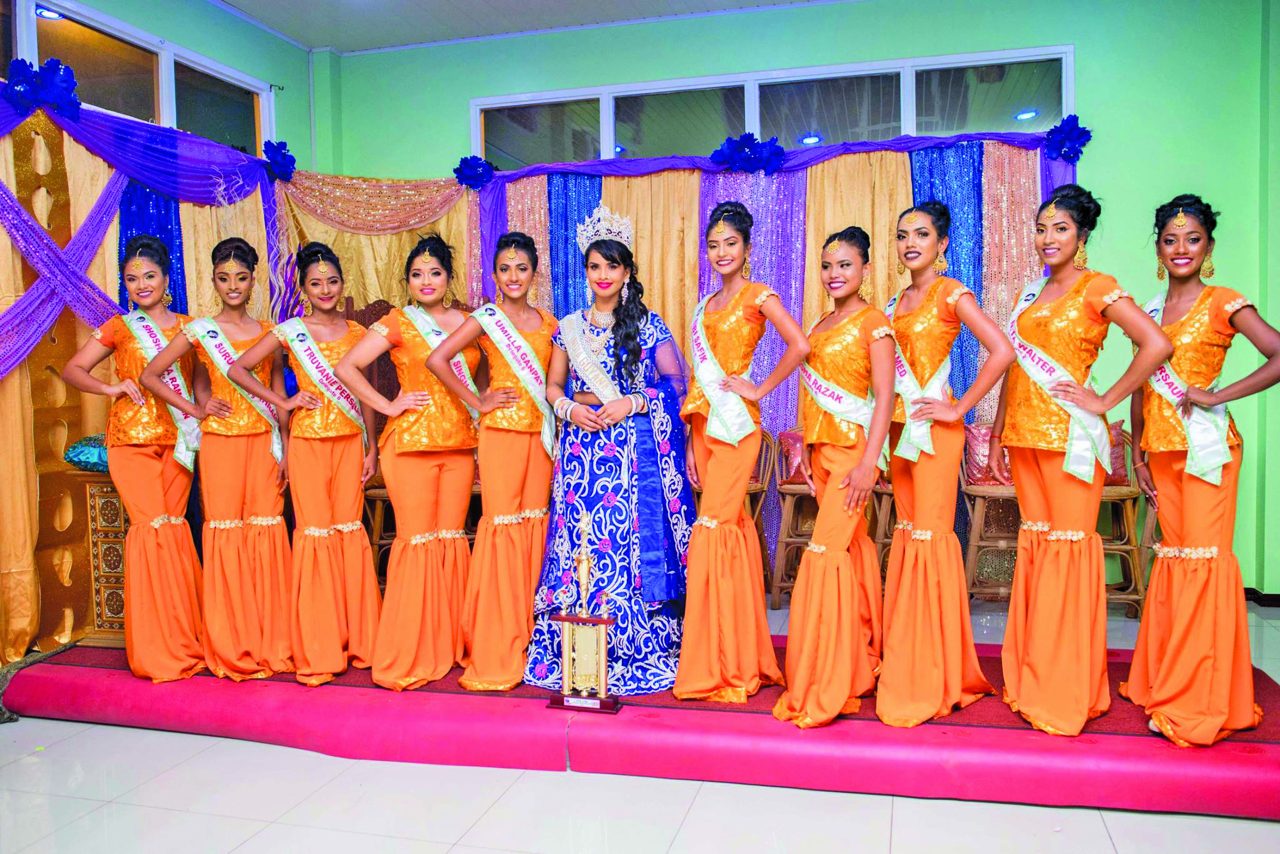 She is married to Ravi Persaud, one of her biggest supporters. The newly crowned Mrs India Guyana Worldwide enjoys nature walks, music, dancing, and a relaxing conversation with friends.
Latchman likes to spice up her life by trying new things. She is also the owner of a convenience store in Diamond.
Although losing everything she had in a fire that destroyed their home, and later being injured in a car accident, Latchman said she picked up the pieces and pressed on.
In 2011, she ventured into her first pageant titled, 'Miss India Guyana Worldwide' where she said she came face to face with her dreams. "With hard work and perseverance, I successfully emerged as a crowd favourite and was honoured with 'Miss Best Talent' and the first runner-up position."
About the pageant
Mrs India Worldwide is produced by the IFC, based in New York City. The IFC is a pioneer organisation in conducting Indian pageants and fashion shows in the USA and worldwide.
The committee has been conducting Miss India Worldwide pageants since 1990 and Miss India New York and Miss India USA pageants annually since 1980.
In the year 2016, to mark the Silver Anniversary of Miss India Worldwide, Dharmatma Saran, Chairman and Founder of Miss India Worldwide, introduced for the first time Mrs India Worldwide.
The IFC selects distinguished local organisations in various parts of the world and authorises them to conduct national pageants in their respective countries.
The contestants are of Indian origin, of any age, and are citizens, residents, or born in the country which they represent. Applicants can be married, widowed, divorced and with or without children.
The idea is to empower Indian women around the world irrespective of their marital status. The pageant consists of three segments – Evening Gown, Indian Dress and Question/Answer. The winners of all the various national pageant from all over the world vie for the glamorous and prestigious title of the Mrs India Worldwide.
Mrs India Worldwide aims to create and empower role models who will serve as ambassadors to charity, enrich the perceptions to beauty, and enhance a new strength, energy and spirit for the advancement of Indian women while positively impacting their communities in their respective countries. This is a pageant that will provide Indian women around the world with a platform where they would get an opportunity to "make a difference to the world."