…AG Chambers working with UAE, other countries to draft laws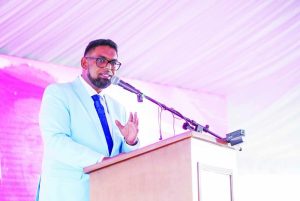 Data centre legislation and digital ID cards that can store the particulars of each citizen and be used when conducting transactions are coming soon as the Government is receiving assistance from international partners that include the United Arab Emirates (UAE).
This was revealed by President Dr Irfaan Ali, during a ceremony to mark the launch of Teleperformance's new location on Middle Street, Georgetown. The President explained that this digital ID card will contain information including banking, social benefits, identification, licensing and taxes.
"Very soon, we will be launching work that would drive everything on a data-management platform. Some of you who follow world developments will know a lot of these developments came out of the Aadhaar card… the one card in India, electronic card that you conduct all your transactions with," President Ali said.
"The UAE has the one card. And we have now been able to partner with the UAE and international companies to bring the same technology to Guyana so we can have the one card that will drive all transactions. So, this card will force the banking sector, the insurance sector, the Government, everybody will have to now migrate to the electronic platform that will support conducting business."
According to Ali, this one card will not only improve the ease of doing business, but help with transparency and accountability and also help to usher in a modern Guyana. He also made mention of a digital passport.
"We want to migrate to a digital passport. So that the efficiency of the immigration system, linked to our security system, because our security system will pick up any person who is on the Interpol list, for example. So, we're thinking in a holistic way in terms of how we'll use technology," the President further said.
Data centres
President Ali also spoke about data centres, which are designated areas that house computer banks and other Information Communication and Technology (ICT) storage systems. He said that the Attorney General (AG) chambers were working closely with the UAE and other jurisdictions on these pieces of legislation, with the aim of soon laying them in the National Assembly.
"Data centres are big business across the world. But unless we have the proper legislation and this was a meeting we had with this very group, when we spoke of the importance of the legislative framework to back data centres. And I'm pleased to say to you that the AG and his chambers are working with the UAE, they're working with five, six different jurisdictions that have implemented data legislation.
"But we're going a step further. We're looking at the challenges since those countries would have implemented the legislation, to ensure that our legislation is futuristic, and captures the business environment of data centres. So, that is coming very soon. We've set some tight timelines. And by the end of this quarter, we're hoping that the legislation will be in the National Assembly," President Ali said.
Last year, AG Anil Nandlall had said that the Government would introduce in the National Assembly the E-Transaction and E-Payment Bills, which would allow citizens to make payments via their debit and credit cards in a more secure and comfortable environment.
"E-Transaction/E-Payment Bills are also two pieces of legislation that will also come on stream (in) 2023. This is where we are going to introduce and allow for the use of plastic in public institutions' payments. We have to move in that direction, dispense with money and so on and use cards in the public sector," he had explained during his programme "Issues in the News".
The introduction of these bills would support Government's drive to develop a single window system, for which legislation has already been presented to and approved by the National Assembly. Implementation of the Single Window System Bill would allow citizens to conduct all of their necessary transactions with Government agencies through one source. (G3)