Guinness 'Greatest of the Street' Football….
Action on day one of the "Guinness Greatest of the Streets" football tournament saw Linden's Champions — Dave and Celina's All-Stars, as well as Silver Bullet — progress to the semi-finals of the National Championships.
In the 1st round of 16 held in Linden on Saturday night, in game one, Melanie B defeated NA Kings via penalty kicks after the two teams ended extra time in a stalemate. Eventually, after some nerves, Melanie won 2-1 on penalties.
Swag Entertainment steamrolled Buxton Diamond 8-2 in game two; Swag's Colwyn Drakes notching up a helmet-trick as he scored in the 2nd, 3rd, 9th and 31st minutes; while he received valuable support from Shane Luckie, who chalked up a hat-trick when he netted in the 7th, 28th and 36th minutes. Royston Fraser also got in on the action with a well taken goal in the 34th minute.
Buxton's Kevon Assaye and Dwayne Jacobs offered futile resistance, as they scored in the 6th and 36th minutes respectively.
In game three, East Bank Gunners had no answer for Dave and Celina's All-Stars, as the latter smashed six goals into the Gunners' net.
Kenard Simon fired home in the 32nd, 36th and 38th minutes, while Keon Sears struck in the 19th and 30th minutes, and Cordell Johnson also got in on the act in the 34th minute.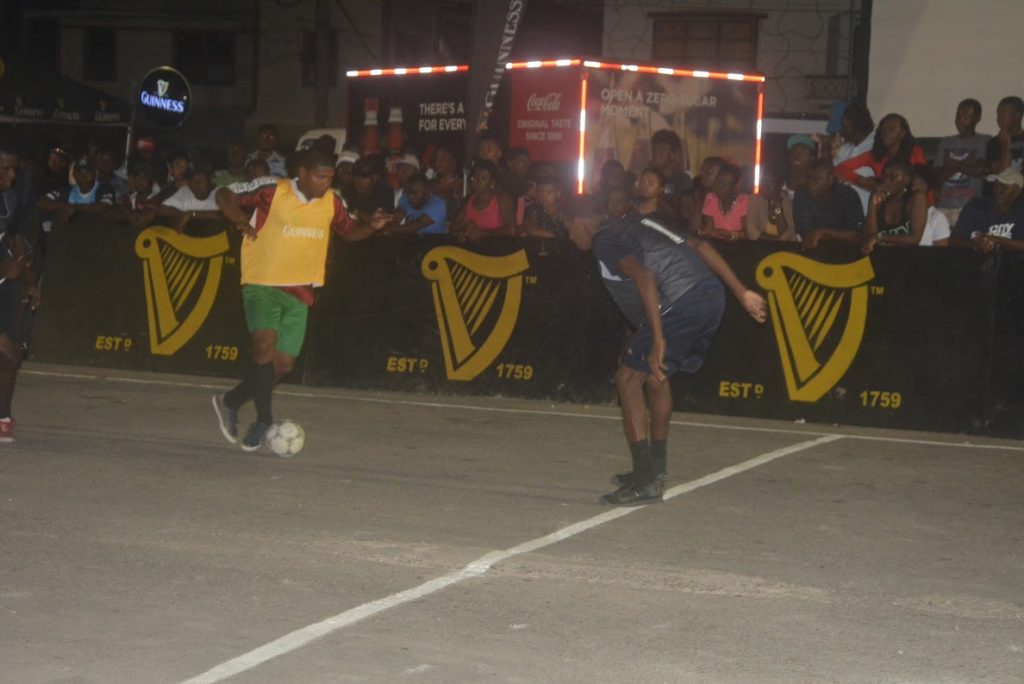 In a highly pulsating game four, Silver Bullets sent home Tucville after their game went to penalty kicks. The action was all in the middle as the two teams battled for possession. It wasn't until the 17th minute that Silver Bullets' Robin Adams stuck one home, to make it 1-0 in favour of his team. However, that lead was short-lived, as Tucville immediately equalized in the next minute through Delon Williams.
The rest of the game was an even contest, with either side getting chances to score, but neither side being able to convert. The game went into extra time, and ended at 1-1, with penalties needed to end the deadlock. Silver Bullets, however, held their nerve to win the penalty shootout 2-0.
In the first quarter-final, between Dave & Celina's All-Stars and Swag Entertainment, the free-scoring sides were both frustrated by the respective defences, and the game ended 0-0 after regulation time. Extra time failed to produce a winner, and the game went to penalties. Dave & Celina's All-Stars relied on their experience and eventually won 2-1 on penalties.
Silver Bullets scored the only goal of the second quarter-final, as the beat Melanie B 1-0 to progress to the semi-finals. Damian Williams stabbed one home after 19 minutes to give his team the advantage. The "Bullets" would hold on to that lead for the remainder of the game, continually frustrating Melanie's forwards.
The tournament will next be heading to Pouderoyen — on July 14 – and the curtains come down on July 15 with action at the Demerara Park, which is opposite Thirst Park. All match nights are set for a 20:00h start. (Michelangelo Jacobus)