…police remove note, bottles with substance from home
A somber atmosphere loomed over the community of Providence, on the East Bank Demerara (EBD) on Wednesday afternoon as the decomposed remains of a mother and her young daughter were discovered in a house located at Lot 783 Phase 3 of Plantation Providence, EBD.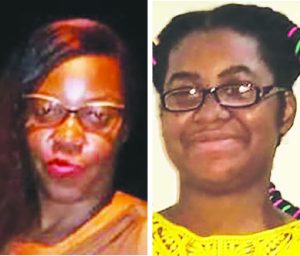 Dead are 38-year-old Petrous Ross-Latchman and her 13-year-old daughter, Gabrielle Ross.
The dead woman's 58-year-old estranged husband and a carpenter made the grim discovery at around 12:00h.
Reports are that Ross-Latchman was unemployed, while Gabrel, who is partially visually impaired was a student at North Georgetown Secondary School.
The house had been rented by Petrous's husband for her and her daughter.
When Guyana Times arrived on the scene, shocked neighbours expressed their concern as they revealed that they had not seen Petrous and Gabrielle for an extended period. Despite the prolonged absence, no suspicious activities or unusual odors were reported emanating from the house.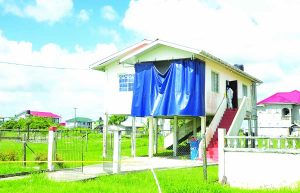 The woman's estranged husband explained that he last saw Petrous in January 2023 when he visited the house and was denied entry. Distressed but unsure of how to proceed, he decided to respect her wishes and maintain his distance.
He said during his last visit, the owner of the house, who resides abroad, returned to Guyana and had requested to inspect the property. He said he attempted to contact Petrous prior to his visit but received no response. Alarmed by her silence, he promptly reported the matter to the police.
Accompanied by a carpenter and law enforcement officers in January 2023, the man said that he forcibly entered the house and said he found the woman in the house in good health.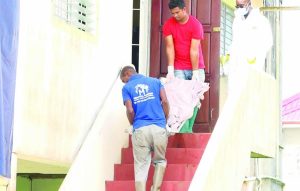 "From the look of things, she didn't want to see me. I even give the police $10,000 to give her and she said she don't want it. I use to buy stuff and so for her, last year I use to talk to her and she use to send me lists and I use to buy things and send for her. I use to buy things about a month after we separated but after then she start saying she don't want anything… I ain't see or hear from her since January."
The man said that the separation between him and his wife was unexpected and her behaviour changed towards him after she began watching a 'spiritual show'.
"She is a Seven-day Adventist and she use to watch this show on her laptop. One day I come home from work she told me that me and she is not from the same nation and she wanted a divorce so I said ok," the man said.
He said he left the house, and Petrous told him that she was only going to stay at the rented property for three months and then leave.
Landlord's visit
However, he said on Thursday he was contacted by the landlord again informing him that she is in the country and wanted to do another inspection of the property.
"I come to the house today (Wednesday), I rap and call and me ain't hearing nothing so and I went back to the station we didn't get any police because they said it's a private matter but the owner said she needs to see inside the house because she has the contract and is her house. When we return, we open the wooden door and we get a stench and went back to the station", he explained.
Upon arriving on the scene, police officers ventured into the house, and the bodies of Petrous and Gabrielle were found in an advanced state of decomposition.
Detectives at the scene discovered three plastic bottles, one glass bottle containing liquid substances suspected to be poisonous, and two cups found next to the bodies. There were also two small glass containers containing a whitish substance which were recovered from the refrigerator along with a note in the living room.
Police have launched an investigation into the circumstances surrounding the tragic deaths.(G9)