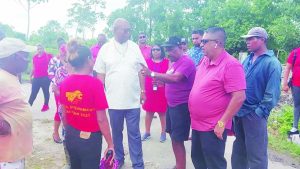 Public Works Minister Juan Edghill is calling on residents of New Amsterdam to ensure that the next council they elect to manage the affairs of the township is one which would provide transparency, accountability and service to the people of the town.
The minister, during a visit to Region Six (East Berbice-Corentyne) on Thursday, pointed to recent developments which have been taking place within the township, and noted that more things will be able to happen after the upcoming Local Government Elections.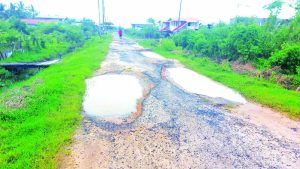 Following a visit to Overwinning, Islington and Glasgow New Housing Scheme, which are communities considered as Greater New Amsterdam, and a visit to Stanleytown and Smithtown in Central New Amsterdam, Public Works Minister Juan Edghill says the current Government wants to see installed in New Amsterdam a council that will be transparent, accountable, and will serve the citizens of the town.
Edghill met with residents in those communities and committed to having several streets resurfaced. However, he said that as Government prepares to make a special effort to bring development to the town, residents must demand and put persons in place so that they can have transparency and accountability.
"New Amsterdam will be developed. Why do you believe we are bringing all of that development to Palmyra? With the deep-water harbour that we are talking about, it is coming to Palmyra. When cruise ships come to Guyana, with a deep-water harbour at Palmyra, the first town will be New Amsterdam. We are building hotels and the stadium there… We can't develop New Amsterdam if we have leaders who every day are playing the blame game and quarrelling and doing nothing for the people. The first thing that the Town Council needs to do is to get their books properly audited," Edghill told residents at Smithtown.
Neglect, mismanagement
Edghill said the level of neglect of the town and the mismanagement of the town's resources must be corrected. During his visit, the Minister was accompanied by candidates from the People's Progressive Party's list to contest the June 12, Local Government Elections; pointing out areas that need intervention.
"Simple things that the Town Hall should be fixing they are not fixing. You can't just say it is the Government. The reason that we have Local Government is because they are specific things that local government needs to be doing. I think the people of New Amsterdam need to become conscious and make a decision of putting their development above their politics," he added.
He said the town needs a council that would focus on implementing projects which would benefit the people of the town and one that would work with the Government.
According to the Public Works Minister, at Glasgow New Housing Scheme, a section of the road network will be resurfaced shortly. Among them is the main access road leading to the school and community center.
Vehicle operators have complained about damage to their vehicles while traversing sections of the scheme.
Back in 2021, Edghill had met with residents of the same community and promised to have some roads upgraded, and last year work was done to upgrade the main road in the community.
Meanwhile, work is soon to commence to have a concrete surface for all nine streets in Islington.
"All streets in New Amsterdam will be addressed. I cannot tell you that all will be done at the same time. We will be doing it in phases, and all the streets will be done, but we have to get a council that will work with us… You can't keep doing the same thing for 53 years and expect a difference."
He said development should take priority over any political agenda. "Development before politics."