Racing for Team Evolution, Paul DeNobrega clocked a time of two hours 42 minutes 53 seconds to capture the fourth Annual Felix Grenville Memorial Cycle Road Race in Berbice on Sunday. He has now won the event twice.
DeNobrega won ahead of Shaquel Agard (Team United); Romello Crawford (Trojan); Andrew Hicks (Team United); Raul Leal (Carlton Wheelers); Walter Grant-Stuart (Continental Wheelers); Christopher Cornelius (Team Evolution); Deeraj Garbarran (Team United); Alonzo Ambrose (Team Alanis) and Briton John (Team United).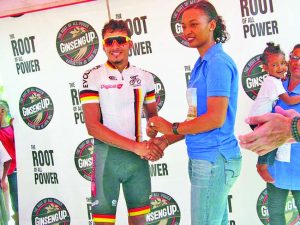 DeNobrega, who won the event in 2015, made his move on the Palmyra road when he signalled his intention to break away from the pack.
The riders began at a frantic pace from the Rose Hall Estate, and it appeared to be an early cat-and-mouse game that saw Team Trojan's Crawford at the front of the peloton.
However, DeNobrega held his own as he kept up with the lead pack and made his move on the return home. He outsprinted Agard over the final 300 metre stretch to claim the win.
In the veterans' category, Ian "Dumb Boy" Jackson took top honours, while Stephen Fernandes was second and finishing in third was Steve Ramscuchit of Trojan Cycle Club.
In the ladies category, Shenika Teixeira claimed first place, while Deanne Welch finished in second and Whitney Poyer in third respectively.
For the juvenile cyclists who rode from Nand Persaud and Company Limited to the finish line, Zamal Khan took top honours followed by Johathan Ramsuchit, David Hicks and Kenwyn Collins respectively.
The event, which is staged in honour of the late Felix Grenville, a former engineer, was held in collaboration with the Flying Ace Cycle Club. It was first held in 2012 and has been held annually since Grenville's death in 2013.