…as CANU destroys over US$2M in ganja
Intercepting narcotics in Guyana requires increased support from countries which these drugs are destined for.
This was the position taken by Home Affairs Minister Robeson Benn on Saturday during a drug eradication exercise by the Customs Anti-Narcotics Unit (CANU). The Minister underscored that since Guyana is just a transit point in the movement of illegal drugs, there is an imminent need for more support to curb such operations.
"I want to remind persons that Guyana may be considered a minor transit point for the movement of narcotics overseas. We are not the users and the buyers of narcotics which are leaving the country for other destinations. So, we continue to look forward and look for more support, particularly from those countries which are the final destinations of these narcotics. I think we have a desperate need there," Benn told the media.
CANU was facilitating the destruction of 1500 kilograms of marijuana that was seized at ports, residences and through other operation last year.
The exercise was done at the old Ministry of Housing compound, Homestretch Avenue, Georgetown. The narcotic destruction was also observed by Permanent Secretary Mae Toussaint Thomas, CANU Head James Singh and other senior members of the Unit.
Since it is imported marijuana, Singh said the drugs carry a street value of US$2.5 million. He credited the agency's increased success to enhanced inter-agency collaboration and intelligence gathering with the Joint Services.
"Marijuana price depends on the territory it is going to. Increased success has been as a result of the support from the Ministry of Home Affairs, Government of Guyana, as well as more inter-agency collaboration. Ninety per cent of our operations we do are as a result of intelligence sharing among the Guyana Police Force, Guyana Defence Force and it's part of the whole national security strategy in ensuring safer communities and a safer country."
Cocaine has not been destroyed as yet, he noted, due to pending matters before the court.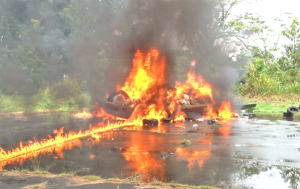 For 2021, the Unit had intercepted 2.1 tonnes of cannabis and 41 kilograms of cocaine. A breakdown of the ganja seized showed that a whopping 1027 kilograms were intercepted in Region Four (Demerara-Mahaica); 481 kilograms in Region Six (East Berbice-Corentyne); 457 kilograms in Region Two (Pomeroon-Supenaam); 6.4 kilograms in Region Five (Mahaica-Berbice) and 4.4 kilograms in Region 10 (Upper Demerara-Berbice).
With respect to the cocaine, 23.5 kilograms was seized in Region Four, 17.4 kilograms in Region Two, and a small amount of 0.16 kilograms in Region Six. In addition, 3.1 kilograms of ecstasy was confiscated in Region Four. Also, a small amount of Crystal Methamphetamine and Hashish were seized.
In comparison, CANU seized 32 kilograms of cocaine and 135 kilograms of cannabis for 2020. In September last, CANU and the Guyana Police Force destroyed over $100 million in illicit drugs, including cocaine and marijuana that had been seized over the past two years. (G12)