Rugby has much potential, and if taken under the right leadership, can soar to higher heights. But alas the sport has had to suffer as a lack of funding causes a constant bother when it comes to sending the team abroad for competitions.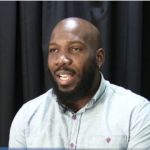 But, with a new leader in the form of Ryan Dey at the helm, his visions and initiatives can take the sport to the next level.
In the recently-concluded Guyana Rugby Football Union (GRFU) Annual General Meeting, Dey went toe to toe with the other contender, Earl Edghill. After winning, he vowed to elevate the standards of rugby in Guyana as he embarked on his two-year term.
In a statement from the new GRFU President, when asked his vision for the sport, Dey said, "I like to play rugby, so as you know I will be implementing a lot of rugby in my tenure. If there isn't much rugby being played, the sport won't grow and people will not seek interest. We want to decentralise the sport, we need to go into the far-reaching areas to find better players in areas such as Linden and Berbice and bring rugby to them. The GRFU will aim to implement rugby in schools around Guyana, individuals will also see the implementation of women rugby. In terms of structure in bringing rugby back to the regional level, I think what was lacking is the cooperation of youth into the structure of the sport. We want to have a cohesive body where senior players can mentor the younger and upcoming players with the sporting and dietary aspect of the game."
Dey noted that the coaching was also very important for the sport. He disclosed that the coaches were excellent in Guyana, but there was a lack of cohesiveness.
He stated that with the inclusion of cohesiveness in the sport, it can be taken to a new level. The new GRFU boss also said that being a former player meant he was better suited to tend to the needs of the team based on his experiences as a player.