– to reduce "widespread corruption" in Skerrit Administration
The parliamentary Opposition of the Commonwealth of Dominica has moved a notch higher in its fight against what it has described as high-level corruption, calling for the establishment of a Caricom Citizenship by Investment (CBI) Regulatory Commission to "protect the integrity of Caricom citizenship and secure Caricom's commitment to the global security arrangements for the prevention of money laundering, terrorism and other crimes".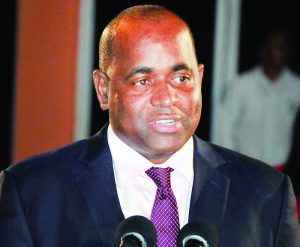 The call was made by Leader of the Opposition United Workers Party (UWP) Lennox Linton, in the wake of the 28th Inter-sessional Conference of Caricom Heads of Government being held in Georgetown.
At a specially convened press conference at the Herdmanston Lodge, Queenstown, Linton told local journalists that the proposed Commission was absolutely necessary at this time to ensure full CBI compliance with global security arrangements for the safe movement of people and money across borders, and the harmonisation of critical elements in the operation of Citizenship by Investment programmes in Caricom.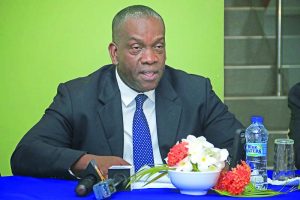 The call has come on the heels of widespread accusation by the UWP against the Roosevelt Skerrit Administration. Skerrit has been accused of being involved in the selling of Diplomatic Passports and diplomatic immunity under the table, said to be in "flagrant violation of the 1961 United Nations Vienna Convention of Diplomatic Relations". This practice, said to have been ongoing since 2004, involves "a band of international rogues and vagabonds, many of whom have been arrested for international crimes while holding Dominica Diplomatic Passports".
"Since, like the regular passports, these Diplomatic Passports are actually Caricom Diplomatic Passports issued by Dominica, this reprehensible practice has severe implications for the entire Caricom integration grouping and needs to be addressed urgently," Linton told Journalists Thursday evening.
According to Linton, Dominica, a member of the United Nations, "is now associated with a scheme to violate United Nations (UN) sanctions against Iran involving the use of Dominican registered vessels transporting sanctioned Iranian oil to China". He said one of the operatives, Alireza Monfared, who has been accused of stealing billions of dollars from the scheme was a diplomat of Dominica and was actually harboured, aided and abetted in Dominica as a fugitive wanted in Iran.
The Dominican Opposition Leader says Caricom Heads are duty-bound to intervene because "the Skerrit Administration cannot be left to bungle its way through these serious issues for which it accepts no responsibility, notwithstanding the grave dangers they pose for the integrity of Caricom citizenship and the security of the grouping in these times of drug trafficking, money laundering, terrorism and other crimes against human civilisation".
Linton said the procedure advertised for acquiring economic citizenship in Dominica "has been breached to selectively sidestep due diligence on applicants and/or grant citizenship without any evidence of payment of money into the Government's citizenship programme.
"Questionable vetting for citizenship in Dominica which opens up new avenues connecting the country to transnational crimes is not just a Dominica issue; it is a Caricom issue of significant proportions given the free movement and other Caricom privileges enjoyed by citizens of Dominica and other Caricom member nations".
Linton said he and his team arrived in Guyana on Wednesday and will be seeking to meet with current Caricom Chairman, President David Granger and as many Heads of State of the 15-member Community as possible. He said he not only wanted to share the story, but hoped that a thorough investigation would be had, so that "truths" could be discovered.
In early January, CBS' 60 minutes featured a "Passports for Sale" story where correspondent Steve Kroft sat down with Linton to hear of the "Citizenship by Investment" industry.
Meanwhile, during his address to Regional Heads at the opening of the 28th Inter-sessional Meeting, Prime Minister Skerrit commented on what he called "rebellious acts of the leadership of the Opposition", which unfolded in Dominica two Tuesdays ago.
"The situation at home, I can assure you, is under control and I expect that a thorough investigation will be carried out into those disturbances, with a view to bringing the perpetrators of any and all unlawful behaviour, to justice," the Dominican Prime Minister assured.