…reminds residents of APNU/AFC's false promises
Local Government Election (LGE) is about believing the people who make the promises and believing that they will deliver on those promises.
These were the sentiments of General Secretary of the People's Progressive Party and Vice President, Bharrat Jagdeo at a meeting on Monday at De Edward Village, West Coast Berbice (WCB).
He told the gathering that the A Partnership for National Unit (APNU), for years, used the opportunity to divide the citizens based on a series of lies and whisper campaigns.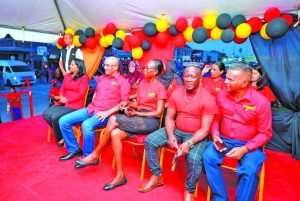 "The whisper campaign has largely been among race; trying to divide our people along racial lines… but when you examine their track record of delivering to our country and people of every race that is when you will understand the true nature of APNU and the PNC. They are a party that every time they have been in office, they focused on the welfare of a few and the masses, regardless of your race, suffer in Guyana."
Referring to the APNU, Jagdeo said the party is known to make promises. Jagdeo recalled that in 2015 along with the Alliance For Change (AFC), they labelled the PPP as being the most corrupt party while referring to itself as being competent, having all the answers to take Guyana forward.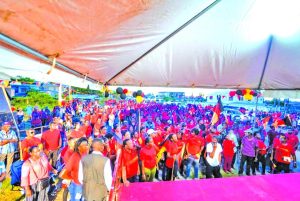 Jagdeo reminded that promises were made to the miners for the taxes to be removed from the sector within its first 100 days in office should it win the elections but instead, new taxes were added which caused many in the sector to shut down their operations.
"They placed VAT on machinery and equipment for mining. Within the five years, we lost 15,000 jobs from the mining sector."
Promises were also made to sugar workers back in 2015 by the coalition that wages will be increased by 20 per cent and that the PPP was planning to close down the sugar estates.
In reality, over the five-year period the coalition was in office, sugar workers received no wage increase, and several sugar factories were closed by the APNU/AFC Government. Some 7000 jobs were last as a result.
Jagdeo reminded residents of De Edward that the school children's cash grant was taken away.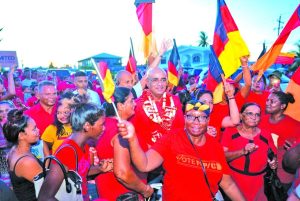 Initially, the "Because We Care" cash grant initiative used to be $10,000 per child up to 2014, with the then PPP Administration promising to increase it the following year but the PPP/C Government was removed from office and the grant was also removed by the new Administration.
When the PPP returned to power in 2020, it reintroduced the grant for school children and increased it to $15,000 in keeping with the promise the party made to parents. This year, for the first time, parents will receive $40,000 per child.
Jagdeo also spoke of promises to pensioners by APNU to have old-age pension doubled when it took office but that did not happen.
The PPP Administration has moved old-age pension from $20,000 to $33,500 and will continue to increase it annually so that by 2025 it would be $40,000, representing a 100 per cent increase as promised by the PPP.
"They promised the Joint Service that they will never touch their one-month salary bonus but as soon as they got into office, they removed it. That is another promise they did not keep."
Further, the Vice President added that "they had plans to change the country but what did we see – a party that was one of the most incompetent party ever in our history – totally incompetent. They also became the most corrupt party even in the history of this country. If we had to spend our time since we got back into office to address all of the illegalities, we would have no time for development because every day we would be running to the court but we have decided to put it behind us and let us move forward," Jagdeo said. (Andrew Carmichael)