Prison break aftermath
–
Tuschen residents on high alert
Residents in the community of Good Hope, East Bank Essequibo are on guard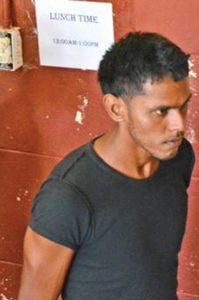 against possible suspects roaming the area who are on remand for a double murder committed on an elderly couple in the community last year. This renewed fear followed the escape and subsequent recapture of murder suspect Shamedeen Mohamed, who was found draped in women's apparel at his Tuschen, East Bank Essequibo, residence on Monday night.
His escape was facilitated by Sunday afternoon's Camp Street Prison inferno, which was believed to be a distraction organised by high-profile prisoner, Mark Royden Williams who remains on the run. A source close to the investigation in Essequibo revealed that Mohamed was briefly roaming free in the Tuschen environs near his residence but persons in the area could not recognise his conventional features as he was disguised in a hijab and gown which are traditionally worn by women of the Muslim faith.
Guyana Times was told Mohamed was found just after 21:00h dressed in the garments. "We wait until place get dark and he was captured after 9pm. He was lying down on his mother's bed wearing a hijab; he and his mother together in the bed," the investigator revealed.
It was suggested that even though his disguise appeared to be convincing, he was recognised by officers in of the Police patrols which was actively searching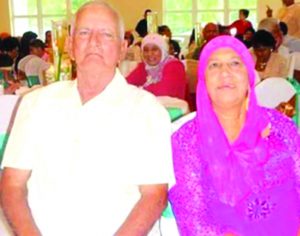 through the areas after the prison break.
"He believed that people wouldn't have recognised him," the Police source added.
Mohamed's mother was arrested and taken into custody, reportedly at the Leonora Police Station. Despite his apprehension, residents are unnerved at the thought that the murder suspect casually returned to the area.
"Residents [didn't] recognise him but they are afraid because they are saying that there [was] no publication as to who [exactly] escaped from prison," this newspaper was told.
It was also contended that if completely publicised, members of the public would able to better identify the escapees if they came into contact with them. As such, they are calling for law enforcement entities to be clear on identifying all of the prison escapees.
"The community members worried because when they heard he was arrested, they are looking out for others because they suspect that others could be in the community also. Everybody is alert at this time and the community is on the alert to look out for them," this publication was further informed.
Mohamed and four others – Sanjay George, called "Coolie Boy"; Jason Howard, called "Smelly"; Joel Blair called "Joey" – were charged in December last year for allegedly murdering rice farmers Mohamed and Jamilla Munir who were burnt to death after their house was set alight. The fire followed a foiled robbery attempt on April 17, 2016.
In an alleged confession the suspects had given to Police, the attempted robbery was hatched after information was received that the couple had a large sum of money in their home. Reports were that when the thieves arrived at the Good Hope home of the elderly couple, they were asleep and had been awakened by noises and later ordered out of their bedroom by the men. However, it was reported the couple had not complied and as such one of the suspects reportedly set a sofa in the home alight, after which he tossed a fuel cylinder into the fire which caused a huge explosion.
The bandits fled but the fire trapped the aged couple and they were heard and seen screaming for help from a grilled window of their home. Neighbours had been unsuccessful in their attempts to save them. Their charred remains were discovered together after the blaze was doused.
One of the suspects, Jason Howard, was also charged with five additional counts of robbery under arms. He, along with another, Curtis Vasconcellos, was charged with another count of robbery under arms and attempted murder. Vasconcellos and his twin brother Kurt, were nabbed on Tuesday in connection with a robbery under arms committed on the East Coast of Demerara. They were caught at Mc Doom, Greater Georgetown, near the scene of another robbery which left a route 32 minibus driver dead after he was shot in the back.
It has been confirmed by prison authorities that eight prisoners are on the run; 4 of whom are yet to be identified. (Shemuel Fanfair)