— says "eagerly looking forward" to serving Guyana again
Dr Ashni Singh was on Thursday sworn in to serve as Senior Minister in the Office of the President, with responsibility for Finance.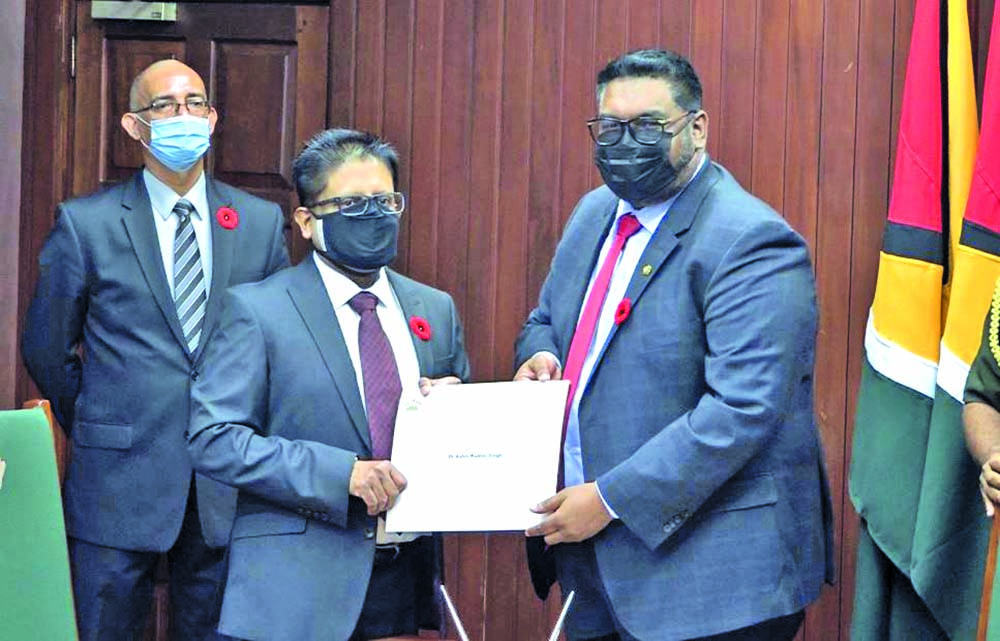 In the presence of Cabinet members and other officials, he took the oath of office before President Irfaan Ali at a simple but significant ceremony.
After administering the oath, President Dr Irfaan Ali stated that Dr. Singh brings value and a wealth of experience to the current Government, having previously served as Finance Minister in the former Peoples Progressive Party/Civic Administration and in other roles internationally.
"He functioned as Minister of Finance, Director of Budget, in the Auditor General's Office and in international appointments. Dr Ashni Singh will bring with him those values, attributes and experience to add to the dynamic, versatile team that we have in Government today," the Head of State posited.
Singh is expected to lead the team under the umbrella of the Office of the President, overseeing transformative agendas of development. This includes projects, programmes and policies to stimulate and expand Guyana's economic base while strengthening key sectors. Nevertheless, Dr Ali said, his Office will continue to oversee the sector.
"Whilst the Office of the President will continue its oversight of the sector, Dr Ashni Singh's responsibility for finance will ensure that we have a full complement of skills that would advance the agenda of the Government."
The President said this expertise is even more critical as Guyana embarks on the path of unprecedented growth, investments and transformation. He said that in every aspect of Government, they've been able to appoint such key personnel with the requisite adroitness.
Dr Ali opined, "That transformation requires a multi-faceted team, and I believe that in every aspect of Government – at the level of cabinet, permanent secretaries – we've been able to match experience and dynamism in a very special way to ensure that we build capacity that is needed to manage the fortunes of the future and to create an environment in which all of our people will be successful. We're very happy for this addition."
Meanwhile, on the sidelines of the ceremony, Dr. Singh told media operatives that he is elated to be serving his country once again. Having been out of Guyana for most of the last five years, the new Minister said he had been monitoring every issue closely.
"I have spent almost all of my life in public service in Guyana, so public service is something that I've devoted all of my professional energies to over the years, and it's something that I consider a great honour. To have been invited by the President to join his cabinet is a tremendous honour. I consider myself greatly honoured and greatly privileged, and, most importantly, deeply humbled," Dr Singh expressed.
According to him, the country is at a significant juncture, having been blessed with vast resources of oil and gas – which are now being extracted. This is expected to create a positive impact on the economic front.
"Our country is at such a critical juncture in our history because I really do believe that we are at an extremely important turning point in our economic history. So, the opportunity to serve in this capacity at this point in time I think is doubly so a huge privilege," the newly-appointed Minister voiced.
However, there are also challenges from the current COVID-19 pandemic globally, which the PPP Government have been trying to cushion since their assumption to office on August 2. He noted that work needs to be added to Government's new policies to steer Guyana in the right direction.
"I'm entering this office at a time when the Guyanese economy and economies around the world are facing tremendous challenges, not least as a result of the ongoing COVID pandemic. President Ali's Government has been very swift to recognise the magnitude of these challenges, and has been swift in crafting policy responses to address these challenges; but we're far from out of the woods, and there's still a lot to be done. I'm under no illusion of the magnitude of the challenges from the point of view of economic policy- making, implementation and management."
Dr Singh has clarified that he will be taking up a seat in the National Assembly. The Constitution makes provision for the President of Guyana to appoint up to four non-elected Ministers.
"By virtue of having been appointed a Minister, I am now a non-elected Minister and I will be taking up one of those four constitutional places that are reserved for non-elected ministers," Dr Singh told the media.
Shortly after being appointed as President in August, Dr Irfaan Ali selected his cabinet, comprised of a number of new and youthful personalities. A Finance Minister was not appointed at that time, and the emergency 2020 Budget was crafted under the leadership of Vice President Dr Bharrat Jagdeo and presented by Public Works Minister Juan Edghill – former Junior Finance Minister during the last PPP administration.