By Gerry Gouveia
Let me begin by saying that I am proud to call Vice President Dr Bharrat Jagdeo a friend.
I watched him grow from a young man into the giant of the man he is today.
I came to know him as a young President of Guyana and I as a young Private Sector leader.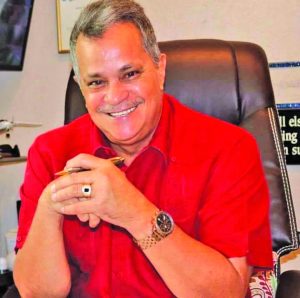 It was 1996, I had just returned from planting the Guyana flag on Mount Roraima to mark our 30th Independence Anniversary and I was being interviewed on the TV about the expedition I led.
Jagdeo called into the TV programme to publicly congratulate me and to say thank you.
He was the Minister of Finance and he told us during the call that he had himself just returned from Paris where he was negotiating the terms of debt relief for Guyana.
Over the years, together, we toiled every day, he from the Government side and I from the private sector side, we worked every day and every night, over the past 25 years, working to make Guyana a better place.
I worked alongside him as a private sector leader and as a military trained jungle pilot, I flew him in my own planes, day and night, high in the mountainous regions of Guyana as well as into the wide-open savannah of the Rupununi.
He sat behind me in the aircraft, never showing any signs of concern for his own safety or fear as he watched me, as I battled the thunderstorms and navigated through the night skies, over the mountains, descending and landing into every region and every village across Guyana and I watched as Guyanese from all walks of life, greeted him and welcomed him in their villages and embraced him with love and with hope. I started my own company, Roraima Airways, in 1992 with my wife Debbie, 30 years ago. The Guyanese economy was in a struggle and our own company was struggling for survival.
I knew Guyana needed a change in leadership, we needed a fearless leader, a leader who had entrepreneurial skills but most importantly we needed an unreasonable leader.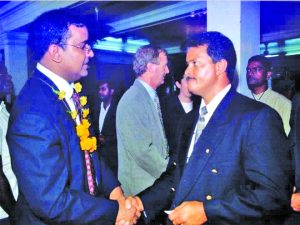 Leaders that are 'unreasonable' motivate; they do not settle for mediocrity. Their desire and passion to excel have no limit. 'Unreasonable' leaders are not shackled by the expectations of others, but exude confidence about their own abilities and the people they lead. 23 years ago, Jagdeo came along and he was the leader we were looking for at that time. He was versed in the art of being 'unreasonable'.
I suspected that while he might have read the book by Gary Chartrand "Unreasonable Leadership" Jagdeo was a natural in the art of leadership and more importantly, the concept of 'unreasonable leadership'.
Twenty-three (23) years ago he stepped forward and dared to dream for Guyana and its people, a dream that was far beyond the average Guyanese man's expectations and far beyond the vision of many of Guyana's leaders before him.
He would set goals at all levels of economic and social development that appears too ambitious but nevertheless, these goals were attained through his own self-belief, and firm insistence and his own hard work.
He demonstrated a serious impatience with stupidity and mediocrity.
This was a young leader who inherited a bankrupt country that had lost all international financial credibility, with an international reputation that was in ruins. Guyana was ladened with financial debt, which we were repaying at the rate 95 cents on every dollar earn, we had no foreign currency.
Guyana was drowning in debt.
Bharrat Jagdeo was a leader who truly believed in Guyana's potential.
He was not satisfied with the old Guyana ..he seems not to want the old Guyana to be our legacy to the world?
Bharrat Jagdeo did not stop there, that was only the beginning.
He insisted that we reintroduce ourselves to the world as disciplined, industrious, productive and worthy global citizens.
As a new and young President, he was battling on several fronts:
1. He was battling with a collapsed economy, the country had no money
2. He was battling with a political opposition that was strong and led by Desmond Hoyte
3. He was battling with a hostile private sector that was now re-emerging from the challenges of total political domination of the 70s and 80s.
4. He was also battling with the old guard in his own party who was not pleased with his new approach to economic development and his new embrace of the western democracies.
Every day of his presidency he woke up to a new challenge.
However, he never seems daunted, in fact, I would venture to say, every day he seems more and more determined to face off and face down the naysayers.
He also faced some of the greatest and most dangerous and violent challenges to the security of the state and to his own safety during the dark days of the jail break in 2002 and the criminals that roamed the East Coast Corridors calling themselves "revolutionary fighters".
They wreaked havoc across the land, they terrorised the nation and challenged the security of the State, but Jagdeo as President, stood strong and stood firm and eventually Guyana won.
As President, he led the way and indeed, he was the driving force behind the development of a modern Guyana.
Dr Jagdeo has received several prestigious international awards for his work and leadership especially in the areas of the environment and sustainable development.
He was declared Champion of the Earth by Time Magazine which is a tremendous recognition and honour.
He is certainly among the most influential politicians in the post indolence era of the Caricom region.
Today Jagdeo continues to provide his vision and ideas on the modernisation of Guyana as he provides support and advice to the team led by President Ali.
President Ali, even as he is creating a new dispensation of leadership never before seen in Guyana, taking Guyana to new and greater heights, he is fortunate to have a mentor and advisor and Vice President such as Jagdeo who brings five years of experience as Minister of Finance, 12 years' experience as President of the republic and 5 years' experience as Opposition Leader.
I am a strong believer in freedoms in all its forms including and more importantly press freedom.
But with freedom comes responsibility and the press, while enjoying its freedom, has a responsibility to be fair and balanced and not to eschew recklessness.
I would say that VICE News violated some of the basic tenets of the news profession.
Fortunately enough, Jagdeo, in his most relaxed and unguarded moment as he sat in his own home talking to a man he thought was his friend, not knowing VICE News was secretly videotaping him, but never for one second, did he say or do anything that could have tarnished his unblemished reputation or his integrity.
I found him to be a man of great integrity, pride, honour and self-esteem when I first met him and I still feel the same way today in 2022.
Both of us could have chosen to live anywhere else in this world as we got older, but we both chose to remain in Guyana and continued working day and night to contribute to protecting our democracy and making Guyana a prosperous country, where our young people could find work, buy a house, buy a car, travel and live happy lives right here in Guyana.
No human being is perfect and I am sure he would tell you that there are some things he thinks he should have or could have done differently.
However, he has proven to be a visionary and transformative leader.
His accomplishments in terms of improving the quality of life of Guyanese over the years serve as indisputable testimony to his vision, ability to get things done, capacity and commitment to Guyana.
I am proud to call him a friend.