An East Bank Demerara (EBD) resident died in the wee hours of Thursday after he reportedly lost control of the vehicle he was driving and it crashed into a concrete bridge at Windsor Forest, West Coast Demerara (WCD).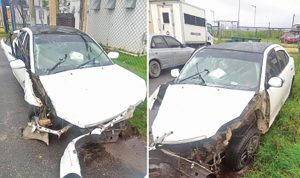 The dead man has been identified as Kelvin Ghisiawan of Samatta Point, Grove, EBD. Two children of Kaneville, EBD, aged 12 and 6, who were travelling in the car that Ghisiawan was driving, have sustained injuries to their bodies.
The Police have said that the accident occurred at about 04:15h, and involved motor car PSS 3117, which,
according to information received, was proceeding along the Windsor Forest roadway when Ghisiawan lost control of the vehicle and it slammed into a concrete bridge.
The impact of that crash extensively damaged the car, and the driver and the two children, who were seated in the back of the vehicle, sustained injuries. The unconscious driver and the two conscious children were picked up by public-spirited persons and taken to the West Demerara Regional Hospital, where Ghisiawan was pronounced dead on arrival.
The two children were treated and admitted to the medical facility. The 6-year-old suffered a broken left leg and injuries to her body.