– Police worried about failure to wear safety helmets
The Guyana Police Force (GPF) is reminding citizens, especially motorcyclists, that the wearing of helmets is necessary when using the roadways.
Traffic Officer of Regional Division 4B (East Bank Demerara), Assistant Superintendent Maniram Jagnandan contended that motorcyclists' failure to wear safety helmets is a burning issue in his district.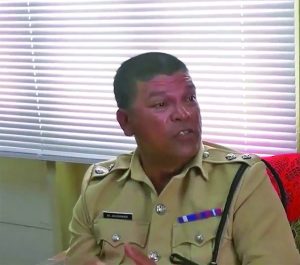 He reminded that anyone using a motorcycle with an engine capacity of 50CC and over are required to wear a safety helmet with
The Motorcycles (Protective Helmets) Regulations, Section 3 (1) of the Motor Vehicles and Road Traffic Act Cap 51:02 states that: "The driver of, and every person carried on, a motorcycle on a road shall wear a safety helmet capable of affording protection to the head of the wearer from injury in the event of an accident."
In light of this occurrence, the Traffic Officer pleaded with the motorcyclists to abide by the traffic laws while adding that many persons can survive a broken limb, but, without the helmets, bikers have no other form of protection.
"I would like to appeal to these motorcyclists to wear their safety helmets, and not wear them alone, but ensure that it is properly strapped to your head. Sometimes when we stop these motorcyclists, we find that the strap is not on properly."
This plea comes as the country is observing Road Safety Month under the theme "Safe Driving, Saves Lives".
However, Jagnandan said from the period January 1, 2022, to October 3, 2022, his division recorded 12 fatal accidents compared to 28 last year.
"We had a big decrease in Region 4B. We had this decrease because of the various measures and systems we put in place. We do a lot of analysis within our region to see which are accident-prone areas," he said.
The Traffic Officer said that to keep these numbers low, they will continue to do several analyses coupled with enforcement to help curb casualties. "We will hold lectures at school, engage drivers along with pedestrians so that the message will be clearly received," he said.
The most recent accident involving a motorcycle on the East Bank corridor occurred two Saturdays ago, leaving two persons hospitalised with severe injuries.
The horrific accident occurred at Friendship, East Bank Demerara (EBD).
It was reported that the motorcycle crashed into another vehicle. So far, investigators were told that the motorcyclist was speeding and somehow ended up in the path of the vehicle.