ꟷ in Olympic qualification preparation
National Table Tennis player and Olympic prospect Chelsea Edghill, the current National Sportswoman of the Year, will be participating in the Finland Open Table Tennis Championships as part of her Olympic qualification preparation.
These championships, which are an ITTF World Circuit event, are scheduled for the period December 5–9 (yesterday to Monday), and many players from Europe will be participating therein.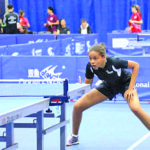 Having recently qualified to, and participating in, the 2019 Pan American Games in Lima Peru, Edghill is seeking to qualify for the Games of the XXXII Olympiad, the Tokyo 2020 Olympic Games.
She will be travelling with Coach Tony Rato to Portugal, and will compete in the women's singles events in Helsinki. This is the first time that a player from Guyana will be participating in a senior World Circuit event.
Following her participation in these Championships in Finland, Edghill will travel to Romania to train and play in competitions, before returning to Portugal to prepare for other key engagements.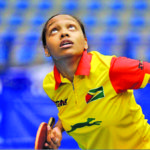 This tournament is also geared at assessing progress made in the implementation of several new elements of her game in a high-level and competitive environment. In this tournament, she will be picking up valuable ranking points.
Part of her identified road march for Olympic training and possible qualification based upon a limited budget entails participation in the German and Portugal Open tournaments. Continued training in Portugal, training in China, participation in the Caribbean Championships leading up to the continental qualification event to Tokyo 2020 entail competition Teams Singles and Mixed qualification, and are scheduled for April 2020.
A former junior Olympian and recent student of the Lindenwood University, from where she graduated with a degree in chemistry, Edghill has an extensive resume with several junior sportswoman titles; such as National Champion, Caribbean Women's Under 21 Champion 2018, Caribbean Women's Doubles' Champion; Caribbean Women's Bronze Medalist 2019; several collegiate tournament wins; Caribbean Cadet and Junior Champion; and Caribbean Women's Team Silver Medalist 2018-2019 as a member of the Lusitania de Lourosa Table Tennis Club of Portugal.
The Guyana Table Tennis Association hereby extends its gratitude to the Guyana Olympic Association for assisting Edghill in her quest for possible Olympic qualification.