Commonwealth Youth Council, Caribbean and Americas Region Representative, Franz George, on Wednesday said education is extremely important and necessary when addressing mental health issues.
In an invited comment on day two of the Caribbean Summit on Youth Violence Prevention, George said statements suggesting that persons suffering from mental illnesses are "experiencing a spiritual event" or "it's a demon", often come from a place of ignorance.
This, he said, emphasises the need to have education on the issue in all levels of society, so it can be better understood. George noted that "these issues are real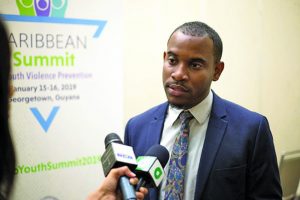 issues that people are dealing with," further underlining the need to "understand the causes, symptoms and the solutions."
"We also need to educate the young people how they can cope; how can they recognise that they are experiencing these issues, and who to go to for help, so they don't have to deal with these things on their own," he is quoted by the Department of Public Information as saying.
The Commonwealth Youth Council, Caribbean and Americas Region Representative also said education must be in the picture, as it plays an integral part in the successful implementation of projects which focus on mental health.
He described the conversation on Wednesday as a positive and progressive one, and called for the strengthening of the mental healthcare system.
"We need to have persons in the community willing to work. The Government also needs to be willing to work, and policymakers and development partners."
George highlighted that establishment of a mental health clinic or a positive mental health programme "is often times a product of many partners coming together".
He added that the conversation needs to be "expanded amongst the players in the sector, and then from there we can move into implementing these programmes and having more centres."
In addition to establishing more mental health centres across the region, George said people must also see the importance of accessing the facilities.